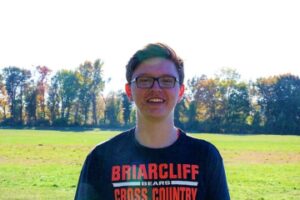 Seven years ago, when Briarcliff High School senior Alex Southern went to summer camp, little did he know that it would change his life.
At camp, Alex took a film class and "caught the bug" for filming, editing and, most importantly, photography.
These days, Alex, who plans to attend Vassar College in the fall, is a Student Teaching Assistant in Jamie Mandel's College Introduction to Film and Digital Editing class.
"I took the class when I was a freshman and I wanted to be a Teaching Assistant ever since, but it didn't fit into my schedule," he said.
This year, however, it finally worked out.
"There was no Teaching Assistant when I took the class and I think it would have helped me a lot," he said. "When we were editing our first project, no one really knew what they were doing and Ms. Mandel was busy trying to help everyone."
According to Alex, the class is technically-intensive.
"Many the students in the current class don't have a lot of experience and need help with editing and working with the camera equipment," he said. "Ms. Mandel can't help everyone all at once, so I walk around and help students – I make sure that everyone is on task and I also help students when they run into technical problems."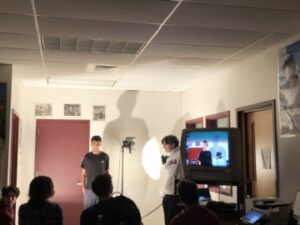 Alex, who is also the President of the Future Filmmakers Club and a member of the Yearbook Club, will receive half a credit and a pass/fail grade for his work as a Teaching Assistant.
Recently, Alex taught a lesson in class.
"I did a lesson on lighting with a PowerPoint demonstration that explained the effects that lighting can have in a film," he said. "I went over the lesson plan with Ms. Mandel and worked on making it engaging."
Alex, who is also captain of the track team, used his experience speaking in front of others to help him present to the class.
"I was a little nervous but I was used to speaking informally to the track team," he said. "This situation was more formal, though, so I wanted to make sure I was getting my point across in a way that the other students would understand."
Although Alex's big passion is photography, and, to a somewhat lesser extent, film and editing, he is unsure of his major in college.
"I won't need to decide on my major until the end of my second year at Vassar, so I have time," he said. "I may do a double major in something like economics or finance."
Alex, who takes photos for the track team and the schools shows, and has also taken photos for a swim team last summer, enjoys sharing his skills with the students, but also gets a lot in return.
"I learned a lot from this experience," he said. "It is great for anyone who wants to go into any type of teaching field. I love being behind the camera, but I also liked the experience of giving a lesson."
"His lesson was thorough and informative," Mandel said. "The class was really engaged and enjoyed the hands-on lighting activities that Alex created. He is a role model for the students in the class."