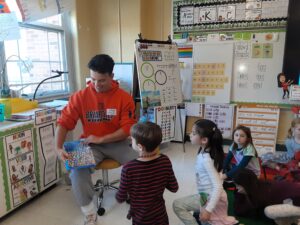 Five Briarcliff High School students recently had a chance to spread kindness at Todd school…and also take a walk down memory lane.
In honor of Kindness Day at Todd, the students, who are also athletes, visited first and second grade students to read to them the book "Only One You" by Linda Kranz.
The students visited first grade classes, followed by second grade classes. Along the way, they reunited with coaches and former teachers and reminisced about their favorite Todd memories.
The students were Mar Rivera Font, Lucas Golovcenko, Jared Haberman, Ryan Horowitz, and Sebastian Martinez.
The idea for the visit was a collaboration between Briarcliff Athletic Director, Chris Drosopoulos, who reached out to Principal Jessica Michaelidis.
"Chris wanted to find a way to have a collaboration between the athletics department at the high school and Todd students, which I thought was a wonderful idea," Michaelidis said. "Our students look up to the high school students, so it's great for them to be able to see what they can achieve in the future. Briarcliff is a small community, so it's great to have these connections."
Sebastian read to second grade students in his former teacher Ana Correia's class.
His advice to students was to "listen to Ms. Correia."
"I also told then to practice their writing because I remember struggling with cursive when I was in Ms. Correia's class," he said. "I told them to be a good sport and to be kind to their teammates and lift them up."
According to Sebastian, Correia left an impression on him when she was his teacher.
"It was amazing to see her again," he said. "She was on maternity leave when I was in her class, but I still remember that she was always very kind to me and to the class."
After reading the books, the student-athletes visited some coaches and former teachers and spoke about their time at the school.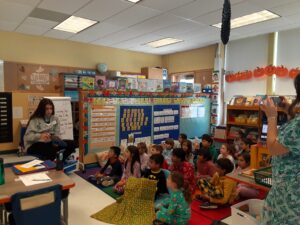 "My favorite memory from Todd is Field Day," said sophomore Mar Rivera Font.
Drosopoulos is grateful for the opportunity.
"I thank Ms. Michaelidis, Assistant Principal Anne Marie Foley and the teachers for allowing us to visit," he said. "The student-athletes were enthusiastic to come and read to the younger students. The journey of a Briarcliff Bear begins here, at Todd."
He was proud of the high school students for sharing their time.
"These student-athletes are the quintessential role models both on and off the field, and they take great pride in their schools," he said. "They bleed blue and orange."