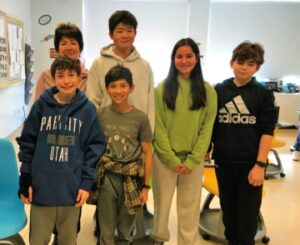 When members of the Briarcliff Middle School's Mathletes club scored 17 out of 25 points on the recent AMC 8 exam, little did club advisor Svetlana Ryzhik know that they had placed in the top 5% in the nation.
"I am impressed," she said. "This is in fact a very good score compared to competitors across the nation. Congratulations to our wonderful mathematicians for such a great achievement!"
According to the AMC 8 website, the exam is a 25-question, 40-minute, multiple-choice test in middle school mathematics designed to promote the development of problem-solving skills. It provides an opportunity for middle school students to develop positive attitudes towards analytical thinking and mathematics that can assist in future careers.
The top three scorers, eighth graders Julianna Wang and Matthew Masala, and sixth grader Aaron Zheng, received a score of 17, which placed them in the top 5% nationally.
They will receive Honor Roll certificates. In addition, Aaron Zheng will receive Certificate of Achievement for students in grade sixth and below who have a score of 15 and above.
Seventh grader Eli Berzofsky placed second on the team with the score of 16 and eighth grader Alex Lu and seventh graders Deenora Reiss-Reinitz and Dylan Star placed third with the score of 15.
Julianna Wang was delighted to hear the news.
"I could not have done it without your continuous support," she said to Ryzhik.
Principal Amy Gladstone congratulated the students and Ryzhik.
"What amazing news! Kudos to our students and to you – what a team you are coaching, Ryzhik," she said.