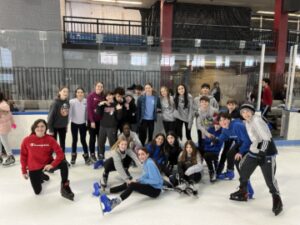 In honor of American Heart Month and Kindness Week, on February 14 the entire Briarcliff Middle School took a field trip to Playland Ice Casino in Rye for a day of skating, in a community-building event organized by Principal Amy Gladstone and Assistant Principal Kristen Bonicci.
"The trip, which was generously sponsored by the PTA, evolved from an idea about living a heart-healthy lifestyle and practicing a day of fun self-care for the body and soul,"  Gladstone said. " Bonicci and I thought 'what better way to build connections within the school community and introduce physical activity than ice skating?'"
The day began with a delicious breakfast hosted by the PTA, after which everyone boarded the buses and headed to the rink.
Many students had never skated before, but they were eager to try something new.
"I roller skate, so I thought it would be easy, but I fell so many times," said Veronica, a sixth grader.
Cameron, another sixth grader, agrees there was a learning curve.
"It was a little hard in the beginning, but I got better," he said.
"There were kids who at first clung to the wall, but eventually their confidence built up and they were able to get a little closer and go inside the rink or skate a little faster,"  Gladstone said.
The upbeat music contributed to the fun atmosphere and students were able to skate for almost two hours.
Those who needed a break or who did not wish to skate enjoyed various stations off the rink.
"We had board games and an arts and crafts station where students created origami hearts and little gnomes for Valentine's Day,"  Gladstone said.
According to the students, it was fun to watch their teachers skate.
"It was a good opportunity to socialize with the teachers because we don't get to do that often," said Andrew, an eighth grader.
"A lot of them were helping kids who fell on the ice," said Hannah, another eighth grader.
For many students, the event was an opportunity to reconnect with friends from another grade that they normally do not see during a typical school day, as they have different classes and go to lunch at a different time.
"I have friends from track that are in seventh grade so I was able to see them," Hannah said.
"The trip was a beautiful example of the vision I shared with faculty and staff earlier in the academic year: getting back to the basics and rebuilding our community,"  Gladstone said. "Students across all grades interacted with one another, engaging and challenging each other by taking risks trying something new and having fun. There were many smiles on people's faces that day."