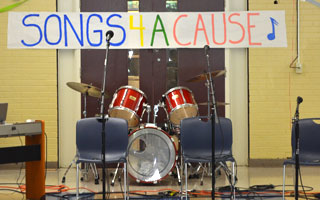 Briarcliff High School's cafeteria, the major hub of chewing and chatting come lunchtime, closed its doors on scents of burnt bagels and marvelous muffins, marking the end of another school day. However, as evening fell, it was clear that this was no ordinary day.
The bland cafeteria transformed into the perfect venue for the 4th annual Songs for a Cause concert on June 8th.
As a benefit group, Songs for a Cause raises and donates money to the Blythedale Children's Hospital in Valhalla. Its 40+ members take part in a range of activities year round with help from guidance councelor and faculty mentor, Michael Muranelli. The group makes frequent visits to the hospital, where students teach patients what they know about music and instruments in a mini musical festival. It also organizes song-o-grams to add extra festiveness to holidays, like Valentine's Day. Booths are set up around the school with a selection of songs to choose from. Students purchase a song-o-gram of their choice, with the intention of sending them to beloved friends, boyfriends, girlfriends, or teachers. They must provide a time and location to find said-person, who is later ambushed in class with a song by members and performers of Songs for a Cause.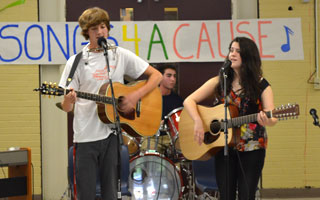 The group's biggest event of the year, however, is its end-of- the-year concert. Briarcliff musicians audition for spots either in person, or by sending in recordings. The selected bunch then prepare solos for the rapidly approaching concert date. Some were fortunate enough to perform multiple pieces, but all were able to select songs of their choosing.
The event was garnished by pizza, drinks, doughnuts, and chocolates that were bought and sold by members of Songs for a Cause. They could be purchased either during performances, or the concert's short intermission. Attendees were plentiful. Current Briarcliff students made up a majority of the audience, but the rest included parents, teachers, as well as Briarcliff High School graduates who just couldn't resist getting a piece of the action.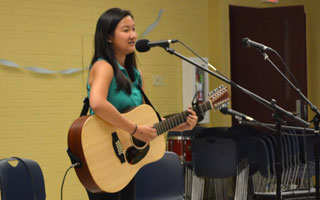 One such graduate was Joy Li, a member of the class of 2011, who was home for the summer. As the former president and founder of Songs for a Cause, Li was welcomed back to the stage for multiple performances. She brilliantly concocted the idea of starting up a charity group while volunteering in music therapy and therapeutic recreation departments every week at Blythedale during her freshman year. After organizing a talent show at the high school that fall, she raised $500, which was spent on a laptop later donated to the hospital. The next summer, Li spent her time at a summer camp run by Do Something, and returned with bright ideas. She was determined to make Songs for a Cause Briarcliff's newest club. Since then, the group has formed and flourished.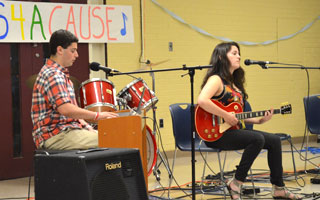 On the Do Something website, Li writes, "I believe that music is a valuable gift and that all children, no matter their circumstances, should be able to learn about and experience the wonders of music. We can expose the children to the endless opportunities in music and show them that everyone should have a chance to take part."
Overall, Songs for a Cause aims to raise awareness about Blythedale's consistent funding needs, as well as the sheer importance of music and the inspiration it brings to those who need it.
[blockquote class=blue]Zarah Kavarana is a 2012 graduate of Briarcliff High School interning at River Journal.[/blockquote]