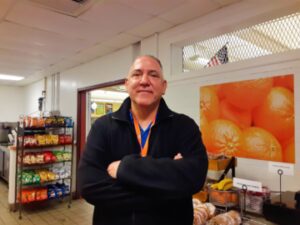 Coming soon to your school cafeteria!
There is a new Food Service Director in the district and he has a lot of new and exciting ideas that he is bringing into the cafeterias in all three schools.
Peter Patane has recently joined Briarcliff Manor School District and has already begun to roll out some new items for students and staff to enjoy during their lunch and before school starts.
With extensive background in hospitality management, Patane has also worked in catering for both corporate and leisure, such as museums and zoos. Now back in his hometown of Pleasantville, he works for Chartwells, the company that provides food and services to the schools in the district, as well as for colleges and universities around the country.
"My passion for cooking began long ago," Patane said. "I was an honor student at Pleasantville High School and I ended up studying culinary skills at Southern Westchester BOCES."
Patane began working at Briarcliff in late October and is planning on sending out a survey to the students to find out what they would like to see in the cafeterias.
In the meantime, he has already begun implementing some changes.
"I like to change things up, I don't want the students always eating the same food," he said. "They should have the options to try new foods, especially if there are healthy options."
Patane plans to put the focus on fresh produce.
"I want to have as many fresh fruit and vegetables as we can afford, instead of frozen," he said. "But with prices increasing, it is going to be a challenge, so we will try to work with what's in season."
According to Patane, students may not be aware that their lunch meal comes with a free serving of fruit.
"They can choose either a fruit juice or cut up fresh fruit, such as watermelon cubes or grapes," he said.
Patane has also increased the amount of grab and go items.
"We have more pre-made deli sandwiches that are very popular, which is a good option for those who don't want an entrée, and I added yogurt and string cheese that students can just grab, plus we offer yogurt and fruit-based smoothies, as well parfaits with low-fat granola, made fresh daily," he said. "I hope to add more in all three schools, plus more pre-made salads. It also makes things more efficient so the line can move quicker."
Patane is pleased that everything is baked and not fried at the schools.
"There is no fryer at any of the schools, so everything is oven-baked and there is no grease or unhealthy fats, which is a huge calorie saver," he said. "I want to put more focus on healthy protein options, like a bento box with humus and veggies or pita chips, fresh veggie wraps with fresh mozzarella and hummus and veggie wraps. We will also be testing out some vegetarian-friendly hot soups in the middle school cafeteria in February."
Patane would like to see more diverse and ethnic foods in the cafeteria.
"I would love to celebrate the national heritage months by serving ethnic food related to that specific culture," he said. "Maybe a Greek gyro, or Italian food during Italian Heritage Month. Asian food would be great – I would love to do pad Thai or a stir-fry with brown rice or a lo mein, where students can choose to add tofu or chicken. And we do bring in sushi at the high school and middle school once a month directly from a restaurant. It's high-quality and very popular."
As far as long-term plans, Patane is hoping to be able to bring in more food from local restaurants.
"I would love to bring in pizza from a local place to the high school cafeteria, like they do at Todd and at the middle school for Pizza Day," he said.
Patane is happy to be back at his old stomping ground in Pleasantville and enjoys eating at the local establishments.
"I'm 100% Italian so I love Italian food, I love eating at Wood & Fire and Chatterbox," he said. "I also love Lefteris Gyro for Greek and On's Kitchen for Chinese food. In Briarcliff, I really like Dive Oyster House."