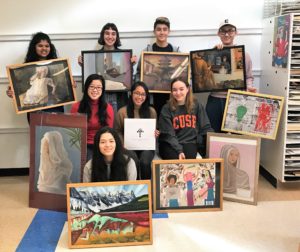 The artwork of 10 Briarcliff High School students was on display at the Katonah Museum of Art's Young Artists: A High School Art Exhibition that ran February 10 through March 3.
According to The Katonah Museum of Art, "Now in its 36th year, this annual exhibition of senior students' artwork gives aspiring artists an opportunity to participate in all aspects of a museum exhibition. With the guidance of professionals, the young artists organize, publicize, curate and install their own exhibition."
Visual Arts K-12 Coordinator Roxanne Ritacco, said, "This is a highly anticipated event for my classes each year."
Briarcliff students exhibiting were: Harsha Philip; Sophie Jelinek; Colby Cho; Letitia Chen; Sarah Albert; Sarah Dolgin; Anna Albert; Daniel Deng; Regine Navarro; and Julia Orientale.