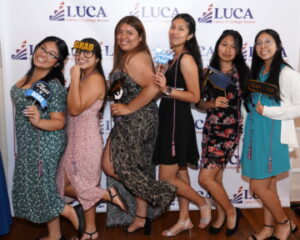 On June 10, Latino U College Access (LUCA) hosted its annual Graduation Celebration honoring the Latino U Scholars graduating Class of 2023, representing seven Westchester County high schools – Ossining High School, Peekskill High School, Sleepy Hollow High School, Alexander Hamilton High School, Port Chester High School, Westlake High School, and White Plains High School. This celebration was hosted at the C.V. Rich Mansion in White Plains and brought together scholars, families, volunteer college coaches, school and community partners.
The event included LUCA's annual First En Familia scholarships presentation. Since 2015, the organization has distributed $80,000 in scholarships to commendable Scholars. This year alone, their team was thrilled to award $11,000 to nine exceptional winners including a scholarship from one of LUCA's corporate partners Danone North America. The remaining scholarships were established in memory of loved ones who motivated first-generation college students to pursue their college dreams.
LUCA's Executive Director, Cosette Gutierrez, shared, "the Class of 2023 is our 10th Anniversary class! What began a decade ago – with only two Scholars – has expanded to 100 Scholars in the Class of 2024! We are so proud of how much our organization has grown and grateful to our incredible Familia for helping us get to where we are today…Scholars always remember that LUCA believes in you and remains with you through college graduation and beyond! The sky's the limit and your futures are very bright."
The event continued by celebrating the achievements of Latino U Scholars and recognizing the dedication of their volunteer College Coaches. Scholars received special graduation gifts and participated in a raffle for dorm supplies to help prepare for their first year of college. Among guests in attendance was the honorable Congressman Mike Lawler, who joined in commemorating the Class of 2023 and their families.
Luz Gomez, proud parent of a Latino U Scholar, shared her family's journey to this milestone moment with guests. "Upon arriving in the United States, we were faced with many challenges, including adapting to a new culture, learning a new language, and working multiple jobs to support ourselves. [My husband and I] would joke as to when Alejandro would attend college, and it felt like it would be an eternity. Yet, here we are proud and anxious as the time has come. I will never forget the moment when he hit the "open" button on his computer and across the screen in big letters was the word 'CONGRATULATIONS welcome to Columbia University!' Alejandro's dream has finally come true."