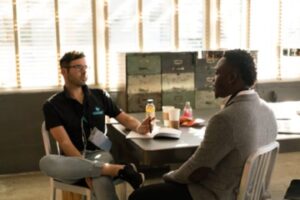 College can be one of the most thrilling and nerve-wracking times of your life. It's a period packed with significant decision-making, whether figuring out which career path to pursue or how to thrive professionally and personally.
While it may be tempting to navigate these hurdles of life alone, the pressure to juggle everything can quickly add to making it an overwhelming experience. Don't let the stress get to you. Instead, consider turning to your college counselor for support and guidance. A recent study by the American Counseling Association revealed that 41% of college students still restrict themselves from approaching a counselor for help.
That's why we are here to highlight the importance of college counselors and some compelling reasons to reach out to them.
Assist in career choices
One of the primary reasons students turn to college counselors is to receive guidance in selecting a meaningful career path. These expert advisors are like career whispers, giving invaluable insight into different professional pathways, the job market, and, most importantly, your talents. By working with a counselor, you can simplify your career paths, craft a solid strategy or method to achieve them, and make informed decisions to remain on track toward your aspirations.
For instance, if you're striving to land a business career, your counselor can help determine which business field best suits your capabilities and skills. Likewise, they can assist you in exploring higher education options to expand your academic credentials. Nowadays, most business aspirants pursue an accredited online MBA program since it offers them the flexibility to seek employment side by side.
Your counselor will likely suggest you enroll in such online programs since they're convenient, cost-effective, and boost employability. Besides, MBA students always gain an edge over other candidates in the job market, given their impressive skillset, professionalism, and commercial awareness.
Help identify your strengths and weaknesses
Having a college counselor by your side can be the ultimate secret weapon to help you unleash your full potential. These trained professionals offer unique insights and guidance that can support you in paving your way to success.
Let's see how counselors can assist in determining your strengths and weaknesses:
Self-assessment: To help you uncover your strengths and weaknesses and a great way to help discover your personality traits, learning style, and skills.
One-on-one meetings: Indulge in a one-to-one session to discuss your interests and goals. It will help unleash areas you are good at and areas requiring improvement.
Feedback on coursework: Give feedback on your work to identify weak areas.
Suppose you struggle with time management or organization. Your counselor can provide helpful resources and strategies to enhance these areas in that case. Alternatively, if you're natural at public speaking or writing, your counselor can suggest ways to leverage those talents in your academic and professional pursuits.
Assist in overcoming shortcomings
We all have some aspects of our lives that can be improved, but without adequate backing, it can feel like an uphill battle. A college advisor can prove helpful in this regard, supporting you with the necessary skills and guidance to triumph over problems based on their experience and advice.
Your counselor can be an invaluable resource in various ways, such as:
Shifting negative perspectives: If you're battling negative feelings or self-doubt, your counselor can help you reframe your thoughts and form a more optimistic viewpoint. This adjustment in perspective will allow you to perceive your flaws as chances for progress rather than roadblocks to your success.
Connecting you with resources: the counselors can connect you with resources at college or within the network to assist you with your issues. Supple you with tactics and materials to help you maximize your potential.
Help set attainable targets for you: By working with your adviser, you may set attainable goals to help overcome your weaknesses.
Help with mental health
Taking care of your mental health has become more crucial than ever, especially during challenging college years. And college counselors can assist in this department as well. Their main goal is to create a judgment-free environment where students can vent their mental health concerns. Whether it's feeling anxious, depressed, or just plain overwhelmed, these compassionate counselors are trained to listen, understand, and offer practical coping strategies.
But they're not just good listeners – they're experts in their field, offering scientifically proven interventions like cognitive-behavioral therapy (CBT), group therapy, stress-reducing techniques, and more. And if you need more specialized care, they'll connect you to other mental health professionals or community resources to ensure you get the support you need.
Through fun and engaging workshops, seminars, and other resources, they'll help you learn about mental health issues, recognize warning signs, and develop practical self-care practices. College life can be stressful and take a toll on anyone, but counselors can help navigate the complexities.
Help with financial problems
For many students, the prospect of college can be unsettling, especially for those who are the first in their homes to pursue higher education or come from low-income backgrounds. Counselors can contribute valuable financial support services to help students conquer the financial hurdles of obtaining a degree.
They assist with creating a customized plan that considers each student's unique circumstances, such as income, expenses, and financial goals, and educate students on various financial aid options like scholarships, grants, and loans.
In addition to financial aid, college counselors provide students access to financial literacy workshops, job fairs, and career counseling.
Conclusion
Since college can be challenging, approaching the college counselor is a good idea. They're equipped with a wealth of knowledge and resources to help you thrive in all aspects of college life. Whether you're struggling with academics, dealing with personal issues, or mapping out your career goals, the campus counseling center is a valuable asset you should utilize without hesitation. Don't forget reaching out for assistance is a sign of strength, and the benefits of doing so are well worth it. If you're facing exam stress, difficulty picking a career path, or familial issues, counselors can help navigate any issue.