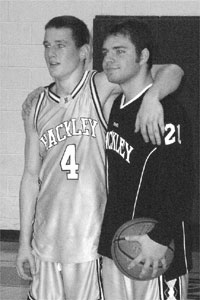 Alex Scaros (r) and teammate Rory McDermott, take time after the game to pose for fans. Alex is holding the game ball he scored his 1000th point with.
Saturday, January 14, Hackley's boys varsity basketball team had an exciting game in more ways than one. The Hornets battled it out with Cardinal Spellman in what was a close game until the fourth quarter.
With just about three and a half minutes remaining, senior Alex Scaros hit the 1000th point of his career. The game took a slight pause to acknowledge Scaros's accomplishment. The short break not only gave the Hornets a moment to celebrate, but interrupted the momentum for Spellman.
After play resumed, Hackley never gave Spellman a chance to take the lead. The Hornets ended the Albertus Magnus High School's Martin Luther King Basketball Tournament consolation game with a 64-46 victory.
Reaching the 1000 point mark did not interfere with Scaros's concentration throughout the game. He sunk 6 three-pointers to end the game with a game high of 27 points. Teammate Rory McDermott had 12 points and Dan DelMoro helped the cause by adding on 13. The Hornets current record since the tournament is 5-4.
With the season just underway, and significant accomplishments already made, Scaros and DelMoro will look to lead the team into another winning season. Their goal is to earn twenty wins. Usually outsized by the competition, Hackley will look to use their quickness and closeness as a means to win.
"We came together as a team quickly," said DelMoro. "Hopefully we can get 20 wins and make it to the playoffs." Last season, Hackley ended with a 16-13 record.
Head coach Steve Frolo is right behind his team. With the basketball season being almost five months long, he knows it can be a challenge to keep the team focused. "They are a hard-working and dedicated team," said Frolo. "We have a number of players who can score high numbers in a game." Frolo is confident that his team will reach their goal of twenty wins.
Scaros came to Hackley as a freshman, and was brought up to the varsity level midway through the season. In his first moments on the court, Scaros shot and sunk the first three-pointer of his high school career. Last season, he averaged 14 points per game, this season he's averaging 16 points per game. "If he continues shooting as well as he is, he may become the second highest scorer in Hackley history," coach Frolo added.
Frolo has coached Scaros for the past four years and has watched him grow in many ways both on and off the court. "Alex has been a tremendous athlete from the moment he got here," he said. Scaros has matured into a player who leads by example. "He's not the most vocal player but he is definitely a player who the team looks up to," Frolo said.
Although basketball is a huge part of Scaros's and DelMoro's high school lives, both young men will go on to play different sports in college. Scaros will attend Tufts where he will play lacrosse and DelMoro will attend Lehigh and play baseball.
Scaros became the seventh player in Hackley history to reach 1000 points. In 1963, George Dalzell was the first to reach the milestone, scoring 1383; in 1972 Dudley Simmons, coached by Rob Pickert, Hackley's Athletic Director, scored 1107; in 1993 Danya Abrams scored a record-setting 1769 and was voted Mr. Basketball of New York; in 1994 Eric Gordon scored 1041; in 1995 Cory VanDiver scored 1164; and in 2002 Patrick McDermott, who currently is the starting quarterback at the University of Pennsylvania, scored 1262 points.