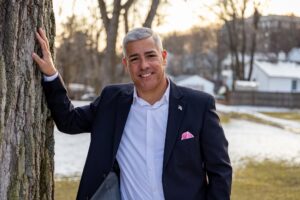 Colin Smith is the clear choice for Cortlandt as our District 1 representative on the Westchester Board of Legislators (along with the fabulously qualified Emiljana Ulaj for Cortlandt's District 9).
Colin has earned another two years in office through his demonstrated success in protecting our environment, keeping us safe, investing in our infrastructure, and working together to advocate for all of our Northern Westchester neighborhoods.
As a Cortlandt Councilman and Deputy Supervisor, I can speak firsthand for Legislator Smith's abilities to lead and deliver for our community. Colin works with Cortlandt on economic development, sewer infrastructure, parks and police improvements. He has proven he has the requisite experience and skills to bring people together to effect positive progress for our community.  His hard work has earned him the endorsement of countless public officials, labor organizations and community members and he has my vote for District 1 – I hope he has yours too!
James Creighton
Cortlandt Manor