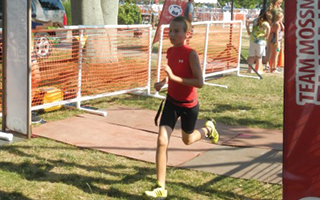 My name is Eli Bertan.  I am 12 years old.  I go to the Farragut Middle School in Hastings-on-Hudson.
I'm organizing a fundraiser at the Spincredible Indoor Cycling Studio to support the Juvenile Diabetes Research Foundation [JDRF].  I've asked my friends to join me in one of two 30-minute spin classes in the afternoon on Saturday, May 3, 2014, to help raise money and awareness for a cause that's important to me.
Diabetes is important to me because my mom has type 1 diabetes.  Although she has learned to cope with the disease, many other diabetics and their families still struggle with it.
I chose a cycling class as the way to get my friends involved because I felt that while raising money was important, it was also important to give time and energy, and to educate people about diabetes.  Exercise is important in helping to control diabetes, and I thought holding an exercise class would help make that point.  Also, cycling is an activity my family and I enjoy a lot.  The best way I could donate to a charity I cared about was to do something I cared about.
Physical activity is a big part of my life, and that includes cycling, because my dad is a cycling instructor, and my parents both love to take cycling classes.  My family and I also do triathlons, and cycling is a big part of those races.  We do a lot of biking in my family.  Sometimes it's for fun, and sometimes it's to train for a race, but we always enjoy it.  I also play soccer, lacrosse and basketball.
As part of my fund-raising effort, I've already gotten great support from Spincredible in Ardsley and Pizza Grill in Hastings-on-Hudson. Spincredible was really generous in donating the use of their facility and their time to make this event happen, and Pizza Grill has agreed to feed everyone who rides with me on May 3.
When we ride on May 3, my dad will help me teach the class, but I'll be in front, leading everyone.  I also will pick the music we use for the class.
Thank you, Eli Bertan
If you are interested in supporting Eli's Spincredible Fundraiser for the JDRF, please email my dad at dbertan@yahoo.com.  Anything you do to support us will be greatly appreciated.