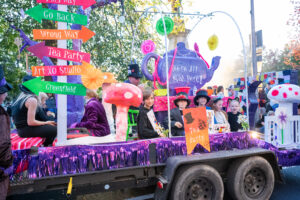 October comes around fast when you are planning for the 21st Tarrytown Halloween Parade. The committee starts planning in April. It's difficult to plan anything in July and August so we start in April and once the summer is over, the weeks will fly by until Oct 28th is upon us, says JoAnne Murray, co Chair of the parade.
We start with a fund-raiser at Set Back Inn on Thursday evening, September 28th at 5:30.  Come take photos with Set Back Clyde. And enjoy delicious bites of food from the many restaurants in Tarrytown. If you can't make the fundraiser, you can always make a donation to the parade by sending a check to the Sleepy Hollow Tarrytown chamber of Commerce and earmarking it for the Halloween parade.
Plan to come early and enjoy the downtown experience. Last year's attendance was in excess of 14,000 people.  Driving through Tarrytown is not easy that day and as the day progresses, gets worse.  Main Street will close at 3 pm to set up for the Block party that follows the parade.
This year we've added 2 more marching bands and are excited to have the Marching Cobras and Ice Cold Drummers join us again.  The kids that participate in these 2 bands are amazing and everyone enjoys their performances after the parade.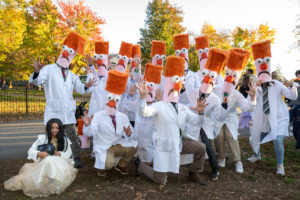 Prior to the parade, the Steel Drums, Chordsman and the Tarrytown Music Hall Youth Group will be performing on Main St and North Broadway.
The parade will be led by the Headless Horseman who will be accompanied by Ichabod Crane.
Our Grand Marshall this year is Dr. Emil Nigro who will be accompanied by Aides from Phelps ER representing the nurses and ER first responders.  Watch for a very special float following the Grand Marshall.
Double Image DJ will entertain the crowds immediately following the parade.
At 8:00 Clare Maloney & the Great Adventure Band will be on stage to entertain you. This internationally renowned singer, songwriter and multi-instrumentalist has shared the stage with members of The Grateful Dead, Jefferson Starship, Allman Brothers Band , Hall & Oates Bruce Springsteen's E Street Band and more.
Restaurants will be serving food on the Main St.  Main St will be closed for the Block party from Kaldenberg through Baylis Court. Food Trucks (Cousins Lobster, Food Grub and The Weenie Truck will be in the parking lot next to the Liquor Store on Main St
For a list of Prizes and more information, go to www.tarrytownhalloweenparade.com   All Floats MUST register on the Website. Any questions, email Jmurray@ambins.com.jm