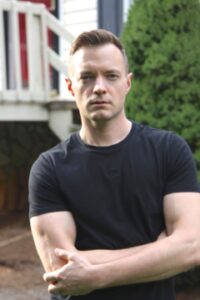 Summertime is about to get spooky! Nathan Gardner and Danny Brooke, in association with Quinn Burnell, are proud to present Real Ghost Stories, taking place at the Tarrytown Music Hall on Saturday, July 8, 2023, featuring Adam Berry, star and executive producer of Discovery+ and The Travel Channel's hit program Kindred Spirits.
The evening features some of Mr. Berry's most unique and spooky stories and personal experiences. Audiences will hear first-hand accounts of true paranormal encounters and investigations from Kindred Spirits, as well as Ghost Hunters, and Adam's own experiences, including some never-before told on television.
The audience will also get a chance to learn more about the paranormal with a question/answer period following the main presentation. For a special bonus, VIP tickets will be available that include the opportunity to join Adam in a paranormal investigation of the haunted Music Hall following the performance.
Real Ghost Stories premiered at the Newport Opera House in New Hampshire in 2021, reopening the historic venue after the pandemic to a packed house. The Newport run was so popular that the show returned to Newport in 2022 with equal success. This year Adam will take his stories on the road to several cities. In addition to Tarrytown, the show will travel to White River Junction, VT on June 30, 2023 at the Briggs Opera House, and Concord, NH on September 13 at the Capitol Center for the Arts' Bank of New Hampshire Stage. More cities will be announced soon.
Producer Nathan Gardner commented: "After two successful engagements at the Newport Opera House, we're thrilled to be bringing Adam and his spooky stories to audiences near and far. We're incredibly excited to bring Real Ghost Stories to Tarrytown and Sleepy Hollow, one of America's hot spots for all things ghostly!"
Adam Berry added: "I am so excited to bring Real Ghost Stories to Tarrytown and Sleepy Hollow. If there was ever a location where the folks know great ghost stories, it would be here! I am thrilled to be a part of the spooky legacy of storytelling and can't wait to bring a bit of an October feel to the heat of July. Who knows? I may just lose my head!"
Tickets to Real Ghost Stories are available from $35.00. For information, and to book tickets, please visit www.tarrytownmusichall.org or phone 914-233-3856.