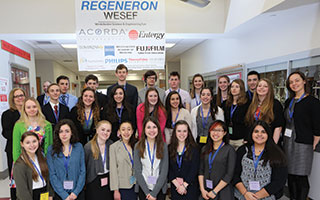 Two Horsemen Named Finalists at the Westchester Science and Engineering Fair
Junior Dominique Marchini and senior Elizabeth Sobolik were named finalists at this year's Westchester Science and Engineering Fair (WSEF) and have been invited to present their work at the Intel International Science and Engineering Fair 2015 in Pittsburgh this May. Along with senior Austen Paris, Marchini and Sobolik were awarded first place at WSEF, earning a $100.00 prize.
At right, Sleepy Hollow High School's award-winning team at the Westchester Science and Engineering Fair.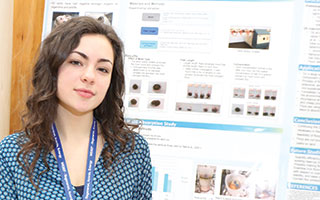 450 students from 35 schools competed this year, and many Sleepy Hollow High School students shined. Earning second place honors were Elizabeth Silver, Julia Komorowski, and Catherine Brennan. Javiera Morales, Heather Brown, Colin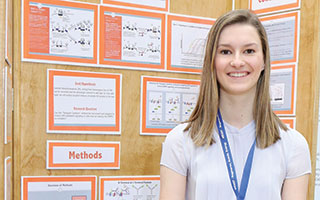 Atkinson, Clare Johnson, Daniel Moriarty, and Emily Thayer earned fourth place honors in their categories. Colin Atkinson also won the Intel Excellence in Computer Science award, while Catherine Brennan won the Women's Geoscientist award. Other students winning special awards were Bethany Christian, Emily Comas, Sara Friedman, Katherine Kachnowski, Javiera Morales, Isabella Salerni, Sonya Smith, Tom Sobolik, David Friedman, Griffin Gebler, Cassidy Higgins, Viktoriya Molchanova, Dominique Marchini, Caroline Murphy, and Elizabeth Silver.
Student Mathematicians Test Their Mettle
At the end of February, fifty students from Sleepy Hollow High School competed for national, regional, local, and school awards at either the 16th annual American Mathematics Contest 10 or the more advanced 66th annual American Mathematics Contest 12. These prestigious mathematics challenges feed directly into the United States of America Mathematical Olympiad, the United States of America Junior Mathematical Olympiad, and the Mathematical Olympiad Summer Program. ©