Irena Portenko is indefatigable. "I am doing something all the time," she says, about her efforts to fund-raise for her homeland of Ukraine. "People are always asking: 'How can I help?' So I am working constantly, because it's all going to make an impact."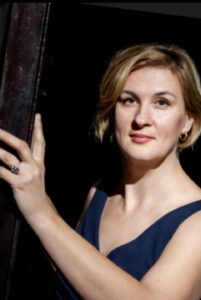 As a musician, teacher and concert pianist, Portenko has devoted her considerable talents and connections to her cause. Since the sold-out Tarrytown Music Hall concert she organized last year, which raised $28,000, she has put together or participated in a further 50 musical gatherings. "I have streamed my musical ability for the purpose," she declares. And her next major event will be in White Plains, at Grace Episcopal Church of White Plains on April 23rd at 5pm.
The show is called "In the Company of Friends – a Concert for Ukraine" and will feature music by Gershwin, Handel, Chopin, Poleva, Dvorak, Rossini, McKennitt, Lyatoshynsky, Piazzolla and Cohen. It will share some of the same performers as the Tarrytown occasion, not least pianist Svetlana Gorokhovich, counter tenor Jeffrey Charles Palmer and Stefan Szkafarowsky whom Portenko refers to as "my musical front. They are always standing by my side, always there for me, changing their schedules in order to perform at these concerts."
But Korliss Uecker, a soprano who performs at the Metropolitan Opera will be performing too. "She's very versatile," Portenko says, "and ranges from classical to cabaret." Uecker and her husband, principal cellist in the Met orchestra, have already helped Ukraine by donating quantities of clothing and blankets.
A more unexpected performer will be Portenko's hairdresser, Joey Mannino, whom Portenko discovered – in a pause while waiting for the color Joey had applied to her hair to set – is an accordionist. "People love him, and we will be playing together, a medley of our own arrangement that shows the collaboration of a professional and an amateur. Music is wonderful like that, so flexible, it can go in so many directions."
A woman who seems to find musical connections wherever she goes, Portenko described her encounter with another group of performers, the Cuatro Puntos Ensemble, a string quartet she first encountered in February at a concert at Kendal on Hudson. "I was impressed not only by their playing, and who they are, but their inclusion of music by young Ukrainian composers, specially commissioned for that performance." Portenko, who will be performing her own solo recital at Kendal in November, will be joining the quartet at the piano for the White Plains event.
Her intention for the April event, she says, is "to thank Westchester for their profound involvement in the process of helping Ukrainian refugees here and through my campaigns."  She has raised more than $150,000 to date, with more coming in, and hopes the evening will boost contributions even further. Tickets, which cost $45, can be purchased at: CompanyoffriendsUkraine2023.eventbrite.com
Funds will go to help several charities, including United Help Ukraine, Fund for Displaced Ukrainian Musicians, and Save A Child.