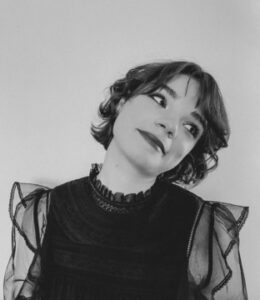 Award-winning jazz vocalist Laura Anglade will be making her debut at the Jazz Forum on Sunday, May 21st, accompanied by the Ben Rosenblum Trio, a long-time touring unit featuring Ben Rosenblum on piano and accordion, Marty Jaffe on bass and Ben Zweig on drums. Choosing familiar classics and hidden gems from the Great American Songbook, as well as French chanson from her highly acclaimed album in 2022, Venez Donc Chez Moi, Anglade will perform two sets for the Jazz Forum audience, at 4pm and 6pm.
Born in southern France, raised in Connecticut and now based in Toronto, Laura Anglade has been charming audiences around the world by bringing a fresh voice to the vintage sound of classic jazz in both French and English. Her sparkling 2019 debut album, I've Got Just About Everything, was praised for Anglade's "deadly perfect intonation." Her 2022 album, Venez Donc Chez Moi, was a Juno Award nominee (Canada's Grammys) for best jazz vocal album of the year.
A long-time favorite of the Canadian jazz circuit, Anglade has been significantly expanding her reach into America in recent years. 2022 saw her opening for world famous vocalist Melody Gardot, which included tours across the east and west coasts of the United States. Anglade also headlined at the 2022 Rochester Jazz Festival, where she performed two sets (together with the Ben Rosenblum Trio) to sold out rooms, as part of a tour which also included Mezzrow in New York City. This May, Anglade will be returning again to the Northeast, including the Jazz Forum as part of a four stop mini-tour of New York and New Jersey.
Laura Anglade's accompanying trio for the performance, the Ben Rosenblum Trio, has been touring together nationally and internationally for the last six years. Rosenblum has brought his trio across the United States, as well as to Europe and Japan, with highlights including Ravinia in Chicago, Bird's Eye in Basel, Kuumbwa Jazz Center in Santa Cruz, Himawari-No-Sato Concert Hall in Yokohama and the Bix Beiderbecke Foundation in Davenport. The trio has performed regularly with Anglade in the last two years, and many more concerts have already been scheduled together in 2023.
For tickets, click HERE.
Jazz Forum Arts
1 Dixon Lane
Tarrytown, NY 10591
(914) 631-1000
info@jazzforumarts.org