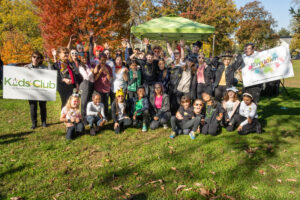 Shoppers standing in line to grab apples and fresh bread at the TaSH Farmer's Market this weekend got an unexpected Halloween treat. Dancers in black and white, some wearing wigs, hats, and colorful sunglasses, streamed in to the opening notes of The Rocky Horror Picture Show's favorite sing-along, The Time Warp.
"I practiced for a while, because I wanted it to look good," said Anna, 17, of Sleepy Hollow. "And I made sure I had everything down."
She and her fellow performers had been mastering the steps secretly all month to pull off the village's first charity flash mob, organized by The Kids' Club of Tarrytown and Sleepy Hollow.
Flash mob producer and Kids' Club board member Char Weigel said that planning started a year ago, and included getting legal rights to the song and recruiting residents to both dance and fundraise. She added, "Things really jelled when Rivertown Dance Academy and The TaSH Farmers Market came on board."
Rivertown Dance Academy (RDA), which has received grants in the past from Kids' Club to help make their programming accessible, choreographed the flash mob. Anna is one of its students in theater-jazz and tap, along with Garth, 24, of Hartsdale, who studies tap, ballet, and jazz. They were excited to participate, but they still hadn't seen the cult film before the flash mob. "I knew of it, but I've never seen it" Garth said.
Along with about 30 other participants from the Tarrytown-Sleepy Hollow community, they had the opportunity to attend two practices held at the Senior Center, or learn the steps through a video RDA recorded.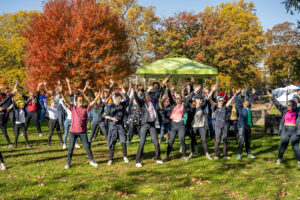 "I went to one rehearsal. I probably should have gone to many more," joked Raymond Sanchez, Superintendent of the Public Schools of the Tarrytowns, who took a jump to the left with the group on Saturday.
"I've been here a short period of time, but it was immediately evident how much Kids' Club contributes to various programming," he said. "Some of the programs have been there for a very long time, historically. And others, they always seem open to new ideas to help address the various needs we've identified in the school district. They've been very, very supportive."
Kids' Club supports programming for underserved youth in Tarrytown and Sleepy Hollow. Their grants have gone on to promote literacy, prepare college-bound students, and fund enrichment programs and the community's food pantries.
Along with dancers from the RHSM LIFE Center, RDA, and other programs supported by Kids' Club, other local leaders got in on the fun, including Village of Tarrytown Mayor Karen Brown and Deputy Mayor Becky McGovern.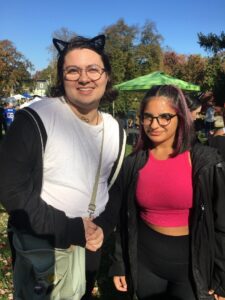 "Rocky Horror Picture Show played at the local theater every Friday of my high school years, said Brown. "'Time is fleeting' and I am so happy to 'do the Time Warp again' with the kids of my community."
"I consider it a great privilege to be doing this," McGovern added. "We're all just here to support the idea of community and having a good time. It's really fun to be here, in the 'Time Warp,' which is where I am most of the time!"
The flash mob was originally scheduled for October 21st, but fell victim to New York's rainy Saturday streak. It was rescheduled on what turned out to be a beautiful day at the farmer's market. Through donations sponsoring the participating dancers, the event has raised $2,000 so far, all of which will go to Kids' Club grants and projects. It was produced in conjunction with the TaSH and RDA, with support from Sleepy Hollow and Tarrytown local governments.
"We all had so much fun while raising funds to help children in our villages," Weigel said. "So 'Let's do the Time Warp again' in 2024!"
To make a contribution to Kids Club, visit: http://www.kidsclubtarrytown.org/donate-now/