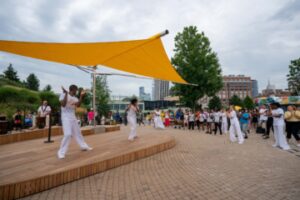 To commemorate Juneteenth this year, Ailey Arts In Education & Community Programs will present a community Dance Workshop celebrating Revelations, the legendary Alvin Ailey's acclaimed must-see American masterpiece of hope, redemption and joy. The free intergenerational, interactive workshop at Tarrytown's Pierson Park will be led by former company members, Renée Robinson and Amos Machanic with live music by percussionist Roderick Jackson.
All are encouraged to come to the Tarrytown waterfront with friends and family to learn excerpts from this modern dance masterpiece. All ages welcome. No experience necessary.
The Revelations Community Dance Workshop is presented as part of the Village of Tarrytown's commemoration of Juneteenth, the federal holiday established in 2021 to recognize the anniversary of the date on June 19, 1865 when the Union Army in Texas issued the order that all enslaved people in that formerly Confederate State were free. Celebrating freedom and honoring the end to slavery on Juneteenth is complicated by the knowledge that the order in Texas was issued a full two and half years after the signing of the Emancipation Proclamation.
Set to a suite of African-American spirituals and based upon Alvin Ailey's "blood memories" of growing up in rural South and the church, Revelations is a universal celebration of the human spirit that has continued to inspire and bring audiences to their feet since its 1960 premiere. After this special experience, to see a live performance of Revelations, visit www.AlvinAiley.org for more information on Alvin Ailey American Dance Theater's upcoming performances at Brooklyn Academy of Music (BAM) June 6-11, 2023 and annual holiday engagement at New York City Center. The Village of Tarrytown is thrilled to commemorate Juneteenth by bringing this celebration of African American heritage for all to enjoy and learn together along the beautiful Hudson River waterfront at Pierson Park.
Event Date: June 17 (Rain Date: June 18 3-4pm)
Event Time: 3:00pm – 4:30pm
Location: Pierson Park, Tarrytown
Cost: Free