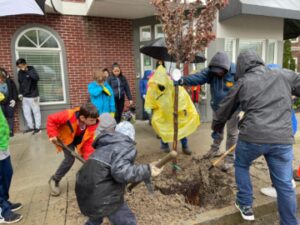 The Sleepy Hollow Environmental Advisory Committee (SHEAC) has organized a series of free events to celebrate not only on Earth Day April 22nd, but the whole Earth Month.  There will be opportunities for people of all ages and abilities to team up with their neighbors to help our local environment and learn about eco practices we can incorporate into our day-to-day. 
Earth friendly events include:
4/8, 10-12 pm at Peabody Preserve: Welcome the Pollinators! (611 N Broadway, Sleepy Hollow) Come and help prepare the Pollinator & Butterfly Garden for Spring by weeding, thinning out the perennials, and more. Bring gloves, pruning tools, and shovels; if you'd like to bring home seedlings from the garden, bring plastic pots too.
4/15, 10am-2pm: Repair Cafe (The Neighborhood House, 43 Wildey Street, Tarrytown–behind Patriot's Park) Bring those fix-it items collecting dust in your home to our village's first ever Repair Cafe! Repair Cafes are free community events that aim to keep our stuff out of the trash through volunteer fixers, menders, tinkerers, and people who just love to take things apart and put them back together again. We will have volunteers on hand to repair bikes, lamps, jewelry, textiles, appliances, electronics, and much more.
4/22, 10 am -12 pm at Peabody Preserve: Calling the Trail Crew! (611 N Broadway, Sleepy Hollow)Help ensure that our trails are safe and welcoming to students and teachers who will visit throughout the Spring. Bring gloves and shovels if you have any.
4/22, 10am -12 pm: SHEAC Annual Earth Day Litter Cleanup event (PRE-REGISTRATION REQUIRED): SHEAC is partnering with a local Girl Scout troop to clean the streets of downtown Sleepy Hollow. SHEAC volunteers will meet at Reverend Sykes Park (the corner of Valley St. and Wildey St.) at 10 am, and proceed up Valley Street together. Wear comfortable shoes and clothes, and bring gardening gloves if you have them. Volunteer spots are limited; register here.
4/22, 12 pm: SHEAC Earth Day Celebration in Barnhart Park: (25 Andrews Ln, Sleepy Hollow) Whether you spend your Earth Day morning volunteering in Peabody, downtown or elsewhere, join us to celebrate a job well done! SHEAC will provide pizza, drinks and snacks until they run out. We'll have information about environmental initiatives in our Village, from the food scraps composting program to our safe streets study and more.
4/23, 3:00 pm: Environmental Storytime at Sleepy Hollow Bookshop (95 Beekman Ave, Sleepy Hollow) Come join us for wonderful children's stories about nature and the environment."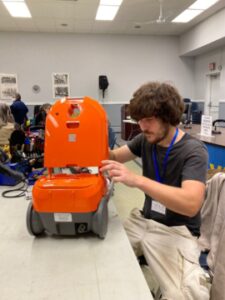 SHEAC Earth Month organizers are delighted to be hosting the village's first Repair Cafe on April 15th. "We're so excited to welcome Tarrytown and Sleepy Hollow to the Repair Cafe Hudson Valley network—I'm a Rivertowns resident and am so proud to see the program growing here in my community," said Suzie Fromer, Coordinator, Repair Cafe Hudson Valley.
There have been over 2,500 Repair Cafés worldwide since 2013 when the late John Wackman started Repair Cafe Hudson Valley in New Paltz. The movement seeks to break the cycle of consumption and disposal and return to the practice of repair. Repair Cafés match volunteer fixers with those who wish to purchase fewer manufactured goods, thereby cutting CO2 emissions.
One of the moms of Girl Scout Junior Group 2862, Anna Mayor, hopes to see lots of kids at all the events, but particularly the village's clean-up on Valley and Cortlandt Streets, and the celebration and information event in Barnhardt Park on April 22 at 12pm. "I am so grateful to the work of organizations like SHEAC and TEAC, and their emphasis on education.  Our children are key to the work we do to protect the environment," said Mayor. "It is so important to educate our youth on what can be done at home and in schools every day, things like…composting and recycling, so that they can encourage their parents and other adults.  I hope our Girl Scout troop can be an example on how to make our villages, and world, a better place!"
The public is welcome to participate in monthly SHEAC meetings that are held on the first Monday of every month at 7pm at Sleepy Hollow Village Hall, 28 Beekman Ave. For more information visit sleepyholloweac.wordpress.com
This year, regional residents have double the opportunity to dig into Earth Month in Sleepy Hollow and Tarrytown: along with the above events sponsored by SHEAC, the Tarrytown Environmental Advisory Council (TEAC) has organized a juicy lineup of Earth Day events, including:
Meet the Village Arborist and Learn about Local Trees (4/1)
Lakes Trail Hike (4/23)
Film Screening: The Story of Plastic (4/23)
Bird Walk (4/22)
Check out the full lineup here.
Protecting our planet doesn't end with Earth Month. Stay tuned for May announcements and join your neighbors in volunteering!