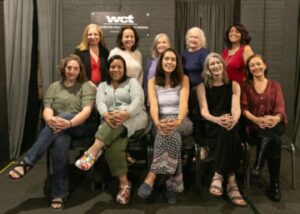 From Friday, July 28th through Sunday, July 30th, Westchester Collaborative Theater (WCT) will showcase a collection of plays and monologues written and performed by eight local women playwrights and WCT members in That's (Not) All She Wrote II – (TNASWII). The writers will read from their own work in a specially created salon-like setting with audiences seated around the space cabaret-style to provide a more immersive, participatory experience. The festival is a sequel to last year's much-lauded inaugural event – though with a novel twist.  WCT actor/director Melissa Nocera from Yorktown Heights is reprising her role as director and WCT writer/actor/director/producer Lori Myers of Nanuet will once again be the executive producer. Kim Chandler of New Rochelle is the stage manager.
This year, the work by female playwrights needed to 'pass' The Bechdel Test, a method developed in 1985 to evaluate the representation of women in film, TV, and theater. Bechdel rules decree that at least two female characters talk to each other about something other than a man. A monologue with a woman speaking to a woman who isn't seen on stage was deemed to fulfill the mandate by WCT.
Says Myers, "The talented female writers in our production have encountered both challenges and revelations when realizing the frequency with which their work revolves around male characters. However, they have managed to create remarkable and surprising pieces that fulfill the given criteria, allowing for a distinctive examination of the human condition. Audiences can eagerly anticipate an extraordinary and unique experience as these voices scold, plead, explode – and so much more!"
The plays are:  Hunter's Moon (excerpt) by Barbara Dana of Katonah, a veteran actor of stage, film and TV and a playwright and award-winning children's book author. This is Dana's third full-length play.
Cluck by Linda Bidwell Delaney of Yorktown Heights, an award-winning playwright whose works have been widely seen in the tri-state area. She is a member of The Dramatists Guild of America, Honor Roll! and the Brewster Theater Company's Writers Workshop.
Assisted Living by Brenda Hettmansberger of Ossining, an actor, writer, director, and model who has workshopped several one-act plays with WCT.
From Ballet to the Battlefield by Kimberly Mallory, a playwright and novelist living in Upper Westchester.
Sleep Study by Evelyn Mertens of Briarcliff Manor whose plays and a short film have been produced through WCT, Axial Theatre, Glass Ceiling Breakers, the Aery and Ariane Festivals, and Irvington Arts Incubator. She is a member of Honor Roll! and the Dramatists Guild.
Filled and Hunger by Serena Norr of Mount Kisco, a writer, playwright, and founder of Let's Make a Play whose plays have been performed at the Omaha Fringe Festival, White Plains Performing Arts Center, the New Deal Creative Arts Center, WCT, the Rogue Theater Festival, the NYC Short Play Festival, the University of Alabama, and various Zoom productions. Her work has been published in ellipsis… literature & art Drama and the Stonecoast Review.
Mother Tree by Loretta Oleck of Ossining, whose full-length play, Paper Chains, was a finalist in the Henley Rose Playwright Competition for Women, a semi-finalist in the Garry Marshall Theater New Works Festival, and was included in The NYC 's International Human Rights Arts Festival.
A Fashionable Funeral by Bette Carlson Siler of Nyack an actor, director and playwright whose plays have been produced/read in NYC's Estrogenius Festival, NJ Rep., George Street Playhouse and The McCarter Theatre, among others.
That's (Not) All She Wrote II will be performed at the WCT Theater at 23 Water Street, Ossining on Friday, July 28 at 8 pm; Saturday, July 29 at 2 and 8 pm; Sunday, July 30 at 3 pm. All tickets are $15. To purchase tickets: https://wct-presents-thats-not-all-she-wrote-2.eventbrite.com For additional information, visit wctheater.org