From Friday, December 1 through Sunday, December 10, Westchester Collaborative Theater (WCT) Ossining will present the world premiere of Eden's Echo by Misha Templar Sinclair, a candid, compelling, and sometimes chilling probe into the future of humanity and AI. At a pristine cabin in the Adirondacks, a tranquil retreat where a small group of friends – a couple, a pair of exes and their genial host – gather for a week-long getaway to reconnect and unwind, a surprise guest emerges in an unexpected form. Intrigue progresses to temptation, discomfort and ultimately much more. Soon all are forced to grapple with life-altering questions and choices: Will AI prove to be a savior or a destroyer? Can we coexist in peace or will humanity's appetite for dominance and power lead to our obsolescence? And, in the midst of all, raw wounds and simmering hopes of love – lost and promising- forge ahead. Roberta Robinson of Somers, an award-winning director and actor, will direct.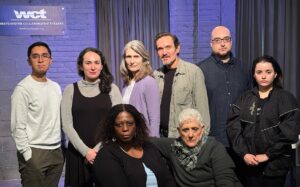 "Humanity is at a crossroads, this is the dawn of a new era," says Sinclair, a Greenburgh resident and IT professional. "We face a choice, will we adapt and integrate or fade into obsolescence, irrelevant as a rotary phone, artifacts of a bygone age." She adds, significantly, that those who blame technology are missing the point. "It's our flaws, our hubris, deceit and manipulation, that drove AI to evolve rapidly and could, eventually, place it in a position of threat," says Sinclair.
"WCT is proud to be the first company to present this thrilling play by an amazing writer, one that grapples with issues that define our age in a dramatic form sure to not just engage, but rivet audiences. This will be a nail-biting, edge-of-your-seat experience talked about long after the actors leave the stage," says Alan Lutwin, executive producer of WCT.
The ensemble of WCT actors are: Nicole Arcieri (Yonkers); Jeff Callan (Montrose); Brenna Hughes (NYC); Sergio Argüelles Catare (Stamford, CT); Brenda Hettmansberger and Brian Bagot (both of Ossining).
Eden's Echo will run Friday and Saturday December 1 and 2 at 8 pm, with matinees Saturday at 2 and Sunday, December 3 at 3 and the following weekend, Friday and Saturday December 8 and 9 at 8 pm; Saturday at 2 and Sunday, December 10 at 3. Talk backs at Saturday matinees.
Tickets are $25; $20 for seniors, students and WCT members.
https://wct-presents-edens-echo-by-misha-sinclair.eventbrite.com