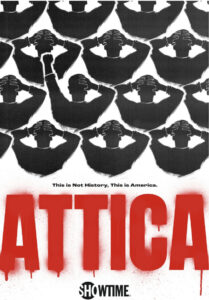 In collaboration with the Ossining Public Library, the Sing Sing Prison Museum is excited to invite you to a free screening of Attica, a documentary by Stanley Nelson. The screening will be held on the evening of      November 2, 2023, and will feature a discussion with filmmaker Nelson and Tyrone Larkins, who was inside Attica during the uprisings and is featured in the documentary. The program's moderator, human rights leader Joel Motley III, will lead the discussion following the screening.
Attica recounts the 1971 uprising at the Attica Correctional Facility through survivors, observers, and expert government officials recounting the events. The violent five-day standoff between mostly Black and Latino inmates and law enforcement gripped America then and highlights the urgent, ongoing need for reform 50 years later. The documentary is recommended for audiences 17 and up due to its complicated subject matter. The program contains material that some may find difficult to watch.  Viewer discretion is advised.
"Attica," Stanley Nelson's stirring, scalding documentary about the 1971 Attica prison uprising, is an essential film that can now stand as a definitive vision of that epochal event.
If you want to attend the screening of the Sing Sing Prison Museum and join a reception with the filmmaker, you can register for the free public program by clicking
here
. Additionally, you can also register for the SSPM fundraiser and free public program by clicking
here
.