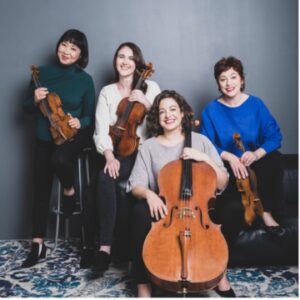 Mother's Day is on the horizon – on Sunday 14 May, in fact – and the internet is filled with eye-popping gift suggestions, from heart-shaped tea bags to foot spa massagers. But if you are looking for something different, creative and family-oriented, how about "an afternoon reverie of music in an intimate setting" taking place at Bethany Arts Community in Ossining on May 13, featuring a wine and cheese reception at 4 followed by an hour-long concert? 
In keeping with Bethany's commitment to diversity and inclusivity, the event features the all-female Cassatt String Quartet and, as well as Mozart's last string quartet, compositions by two Black American female pioneers, Florence Price and Dorothy Rudd Moore.  
Price and Moore were both groundbreaking musicians. Price was the first African-American woman to have her music performed by a major orchestra, the Chicago Symphony. Moore, who lived in New York City until her death last year, was co-founder of the Society of Black Composers and taught at New York University.  
"Amplifying the work of artists of color is important to Bethany throughout all of our programming," commented Julia Schonberg, Bethany's Community Engagement and Outreach Coordinator. "The cross-pollination between an all-female quartet with works by two prominent Black women composers – not to mention on the day before Mother's Day – is directly in line with our goal of increasing equity through the arts, and building a welcoming and inclusive creative community."     
Formed in 1985, the world renowned string quartet took its name and inspiration from the Impressionist painter Mary Cassatt, one of the first women to make a professional career in the arts at a time when women's opportunities were extremely limited. Cassatt was also one of the first artists to paint women in their daily lives rather than as objects. 
The group includes Muneko Otani, Rosemary Nelis, Gwen Krosnick, and Jennifer Leshnower who happens to be an Ossining resident and takes particular pleasure in the Bethany connection. "I moved to Ossining in 1997," Leshnower said, "and when I discovered that Bethany was opening, I reached out and introduced myself, looking for the possibility of collaboration."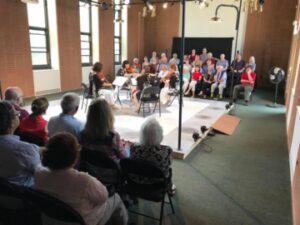 The Cassatt String Quartet first played at Bethany in 2018, performing a summer solstice concert which was very well received. "It's always a pleasure to play locally, to have a warm home-town audience," Leshnower commented. 
Schonberg added: "Based on the great success of Cassatt's previous performance at Bethany, we were inspired to invite them back to join us this spring. Engaging with our local community is central to our mission, and it is a joy to get to work with a long-time Ossining community member, Jennifer Leshnower."  
The quartet has a mission to serve communities too and plays many venues with a very local reach, to which they respond with community-oriented programs, whether in North Carolina, Texas, Boston or Maine. They also play all over the world, and specialize in mixing traditional repertoire with new work, much of it commissioned by them. Their discography runs to more than forty recordings. "The ensemble has always enjoyed working with living composers," Leshnower said. "We are very active in promoting and collaborating with living artists, many of whom are women. We enjoy the process of working together to bring about new works. It's inspiring artistically to mold a piece for the first time." 
They also greatly enjoy playing for children, giving them exposure to classical music. "When the venue is
intimate, like Bethany, there is an opportunity for a more direct connection with the audience." 
The Mother's Day concert may well offer that pleasure. It has been specifically designed for families and connects pleasingly with Mary Cassatt, best known for her portraits of mothers and infants.  Leshnower adds: "Mozart may be familiar to some of the audience, but the two women on the program may be a first for many who will be coming, and that's exciting." 
Tickets cost $30, with special rates for seniors and students, and can be ordered via the Bethany link below. 
cassattquartet.com

 

bethanyarts.org/calendar/cassatt-quartet-concert-2023/