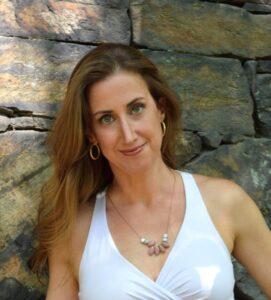 Axial Theatre will host an auction and evening of entertainment honoring a pair of Westchester residents, BK Fischer of Tarrytown (Westchester Poet Laureate) and Lisa Hertz of Hastings-on-Hudson (a co-founder of Axial Theatre and Jacob Burns Film Center), for their contributions to the Westchester community at large and Axial Theatre in particular.  The November 11 event at Bethany Arts Community in Ossining event will start at 7:30 pm. 
Axial Board Member Bruce Apar, of River Journal,  will guide the evening as Master of Ceremonies, with Axial's newest Board member Dan Walworth as Auctioneer.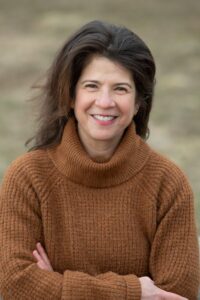 The festive fundraiser will feature the premiere of Axial Theatre's first short film, Robust Admixture, a dramatic recitation of work from BK Fischer's award-winning novella in verse, Ceive.  The film features members of the Axial ensemble and is directed by Axial Artistic Director and three-time Daytime TV Emmy winner Cady McClain, who is Axial's Artistic Director. Also on tap is a scene from Axial's spring 2024 mainstage production of Sam Shepard's Fool for Love, to be performed by Northern Westchester actors Catherine Banks and Anthony Barresi, directed by Axial acting teacher Rachel Jones.
Among items in the Axial auction — open for biding now through Nov. 11 at tinyurl.com/yrhcve8r  — are signed scripts by award-winning dramatists John Patrick Shanley (Doubt and Moonstruck) and Craig Lucas (Prelude to a Kiss), both Axial Advisory Board members; two-night stays at top hotels in Lake Placid, Boston, Chicago, and New Orleans; rock climbing and skydiving; lessons in playwriting and acting; a signed limited edition of Jon Lindstrom's novel Hollywood Hustle, and tickets to Jessica Lynn's Christmas show at Peekskill's Paramount Theater.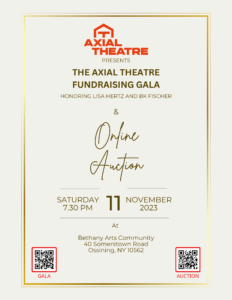 Where: Bethany Arts Community, 40 Somerstown Road, Ossining
When: Saturday, November 11 at 7:30 pm
Tickets: $50 includes two glasses of wine and an assortment of light fare as well as a copy of BK Fischer's novella-in-verse, Ceive. Tickets are available through the Axial Theatre website: axialtheatre.org