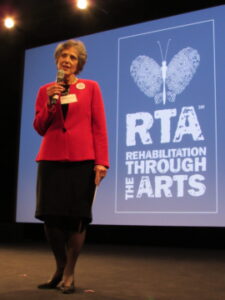 "Not a career, but a calling" is how Katherine Vockins describes her work with Rehabilitation Through the Arts (RTA), the organization she founded which uses the arts to teach life skills to prison residents, equipping them to function better when returning to society.  
What's the difference? "A calling is something that makes you happy to have been put on this planet to do nothing else but that," she explains, adding: "This job has almost been an addiction. It's so beautiful to help people to come home, communicate with their families, and become law-abiding, tax-paying citizens." 
Vockins recently announced her retirement from RTA which she has nurtured and led for 25 years, building it from a theater workshop at Sing Sing Correctional Facility to a six-prison structure across three state counties that has produced more than fifty full-scale plays and has a roster of 30 teaching artists. 
It has been, Vockins says, her third working role, after years in the for-profit world and later in a business partnership with her husband, focused on international marketing and management. It was her husband's mid-life correction that shook everything up, leading him to take a degree at New York City's Theological Seminary, a course which had links to Sing Sing where he was able to start teaching. 
When he invited a group of community leaders to visit Sing Sing, to experience his cohort of students, Vockins went too, "And I learned so much about those we never see, the fathers, brothers and sons who may have made a serious criminal mistake, but many of whom need a second chance." 
Six months later, at a Sing Sing graduation class, she met a teaching assistant who had himself been incarcerated and heard herself asking him: "Is there any theater going on here?" The answer was: "Not for decades. Can you come and help us?" 
And so Vockins, with only a shallow background in theater, quickly found herself back at the correction facility, "meeting with eight men, four of whom were writing a play about the 'hood, denial, violence, HIV/ AIDS, hope, and the power of the human spirit to change." Taking it upon herself to get approval from central correctional headquarters in Albany, she wrote a proposal that resulted, a year later, in the fall of 1996, in the play's production. Residents played all the parts except for the play's one, walk-on role for a female. Vockins did that too.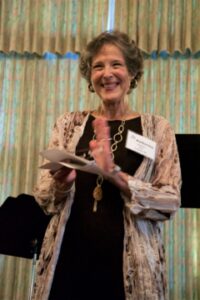 'It wasn't just about the play, I realized. It was about building a skill set. Learning about the creative arts provides a vehicle for better life skills." 
Development followed as the group's work expanded, including hosting a 500-person conference in 2001 entitled Can Anything Good Come Out of Prison? The events of 9/11 setback criminal reform issues for many years, but didn't deter Vockins or her efforts to raise awareness of humanity behind the walls. And in 2003, when 600 prisoners were transferred out of Sing Sing to other mid-Hudson Valley prisons, RTA spread to five other facilities, four male and one female, all working to introduce residents to writing, theater, dance, music, poetry and the visual arts. 
"The courses are open to everyone who has completed RTA 101, a pre-program program," Vockins says, "and are taught by the residents themselves. It's not just about learning an art form but developing the skill set for life outside. And it's a wonderful way to learn, without being threatened." 
In addition, developing a better vocabulary, improved reading and communication skills boosts residents' general education and helps them to move on to college in prison. And recidivism rates for residents who were involved with RTA is 5%, compared to the nationwide rate of 66%. 
It's a massive legacy and explains the beauty Vockins sees in her accomplishment. And she won't be quitting it entirely, opting instead to work part-time, on an RTA program that assists residents two years away from release to focus not on what they left behind but how to prepare for what they are about to find.  
In the future she plans to take a little more time for herself, relinquishing a role that has absorbed her for sixty hours a week to one that requires a mere twenty. For some people, this is hardly retirement. Vockins calls it "finishing strong". 
rta-arts.org