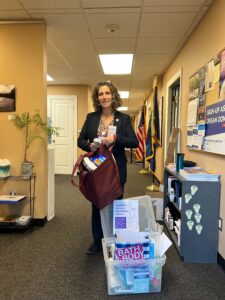 October is Domestic Violence Awareness Month, and Assemblywoman Dana Levenberg is collecting items for a drive supporting women and children fleeing abusive situations. The drive began at the end of last month and will continue through Friday, October 27.
Suggested items for donation include full-size toiletries and gift cards for establishments such as Amazon, grocery stores, gas stations, drug stores – essentially, items that survivors can use to meet their immediate needs as they are trying to re-establish their lives. All donations will be delivered to Hope's Door, a local not-for-profit assisting women and children impacted by domestic violence at the end of the drive.
"Domestic violence is a hidden but unfortunately pervasive scourge that impacts all of our communities. Anything and everything we can do to support women and children leaving abusive situations is critically important to my mission of building healthy communities," said Levenberg. "As we work on legislation to solve problems and create new opportunities that enable all New Yorkers to succeed, we can also help to address immediate and near-term needs that people have through initiatives like this."
Members of the public who are able to contribute are encouraged to bring or mail contributions to Levenberg's district office at 8 Revolutionary Road, Ossining, NY 10562. Another option is to bring items to the Assemblywoman's mobile office hours, held most Monday afternoons in a different corner of the district. Staff members will be at the Field Library (4 Nelson Avenue, Peekskill, NY 10566) from 1-4 PM on Monday, October 16 and at Cold Spring Village Hall (85 Main St., Cold Spring, NY 10516) from 1-4 PM on Monday, October 23.