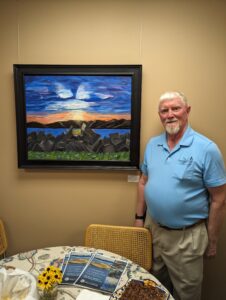 Assemblywoman Dana Levenberg's new district office, located at 8 Revolutionary Road in Ossining, will host a rotating selection of art by local artists. The first exhibition, Contemplating the Hudson River, opened last Friday, September 22 and will run until Wednesday, December 27.
The idea to host local art sprang from the lawmaker's recent move, prompted by the need to leave the Church Street space long held by her predecessor. (Open Door Family Medical Centers, which owns 2 Church Street in Ossining, decided earlier this year to reclaim all of its office space from tenants to make more room for medical services.) The new office on Revolutionary Road has more open wall space than the previous suite.
"The 95th Assembly District has so much artistic talent," said Levenberg. "Several of our municipalities have distinctive and thriving art scenes. It is something that sets our region apart from many others, so it seems fitting to have our office reflect the district in this way."
Another feature that marks Levenberg's district is the Hudson River, which has inspired the first exhibition. Contemplating the Hudson River features works by 22 artists based in the area. The show was curated by Eren Johnson, a Croton resident.
"With an exciting new exhibition initiative, Assemblywoman Dana Levenberg has created an opportunity for public cultural engagement and provides a welcome new venue for artists in Assembly District 95," said Johnson. "The inaugural exhibition, Contemplating the Hudson River, celebrates both Governor Hochul's recent signing of the 'Save the Hudson' bill into law and the rich tradition of artists' engagement with the Hudson River as a source of inspiration. From windswept to contemplative, 22 artists in various mediums capture the moods and states of our majestic river to share with the public."
Members of the public are encouraged to call the office at (914) 941-1111 to schedule a viewing during normal business hours (weekdays from 9 AM – 5 PM, excluding holidays).