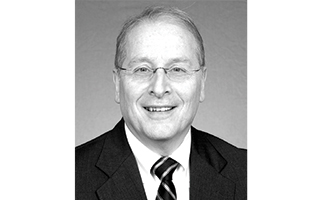 Vincent DeSantis of Irvington, Vice President of Finance and CFO of Phelps Memorial Hospital Center, has been named Westchester CFO of the Year among companies with more than 500 employees.  The annual awards ceremony, sponsored by Westchester County Business Journal, TD Bank, McGladrey, Rakow commercial realty group, Heineken and BMW, was held recently at the Wainwright House in Rye.
In his remarks at the ceremony, DeSantis said, "Being a CFO is a hard job, but it's also an exciting job that allows me to be creative, generate growth and go beyond the numbers. I am accepting this award on behalf of the Phelps leadership team and all my colleagues in the finance department," he added.  "I work with the most amazing people in all areas of the hospital and I thank them for their trust and confidence."
"Phelps was very fortunate to have Vinny join us in 2001," said Keith F. Safian, President and CEO of the hospital. "His vast knowledge of revenue cycle management, banking, and payer negotiations has led to the development of a finance division that has enabled Phelps to manage effectively in one of the most regulated industries and states, and in one of the most competitive healthcare markets in the country."
Previously, DeSantis was Associate Executive Director/ CFO of Long Island Jewish Medical Center, a member of the North Shore-LIJ Health System, one of the largest healthcare systems in New York, where he served in various management positions over a period of 10 years.
Earlier in his career, he was senior manager of the Healthcare Division of the Manhattan-based accounting firm, Deloitte & Touche, LLP, where he specialized in audit and accounting services for healthcare, colleges and universities, and governmental agencies over a period of 18 years.
DeSantis earned his BBA and MBA at Iona College in New Rochelle, NY, and is a New York State CPA.  He has been an adjunct professor of healthcare finance in the graduate division at Iona College and in Mercy College's undergraduate School of Business, Bachelor of Science General Accounting program.