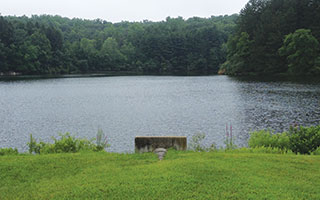 County Executive Robert P. Astorino today announced the recipients of the first annual Soil and Water Conservation Achievement Award, a recognition sponsored by the Westchester County Soil and Water Conservation District.
The award recognizes activities and projects, completed within the past three years, which promote the conservation, management and restoration of soil and water resources in Westchester County. The nominations for the award were reviewed by a five-member panel representing the District's Board of Directors, which selected five nominees for the achievement award. Four other nominees will receive a commendation.
"I'm pleased that these successful and very worthwhile efforts are being recognized," said Astorino. "I'm also proud that this good work to conserve, restore and better manage Westchester's diverse water resources is being encouraged as the projects contribute to the quality of life in our county."
The winners will be recognized at an awards ceremony to be held on Thursday, December 11, at the Westchester County Center, 198 Central Avenue, White Plains.
Recipients of the Soil and Water Conservation Achievement Award are:
Yorktown Central School District for Stormwater Management and Habitat Restoration at Yorktown Middle School and High School Campus
Westchester Land Trust for Hunter Brook Preserve Habitat Enhancement
Teatown Lake Reservation for Environmental Leaders Learning Alliance
Village of Scarsdale for South Fox Meadow Brook Stormwater Management
The Native Plant Center for Education Outreach, 2012-2014
Commendations are being given to:
Village of Tuckahoe for Design of Parking Lot Reconstruction with Green Infrastructure at Fisher Avenue
Friends of Scarsdale Parks for Wetland Restoration at Scarsdale Public Library
Village of Irvington for Valve Restoration at Irvington Reservoir
Conservation Advisory Council of Peekskill for Water Quality Education Outreach
The Westchester County Soil and Water Conservation District, which encompasses the entire county, was created to develop and carry out a program of soil, water and related conservation of natural resources. Environmental professionals from the Westchester County Department of Planning provide support to the seven-member Board of Directors.
"The district addresses a wide range of concerns, such as improving water quality and controlling excessive stormwater runoff by applying best stormwater management practices and advocating this through public education and outreach," said board chair Jan Blaire.
Questions about the awards and commendations can be directed to Robert Doscher, Soil and Water Conservation District Manager, at (914) 995-4423 or at rrrd1@westchestergov.com.