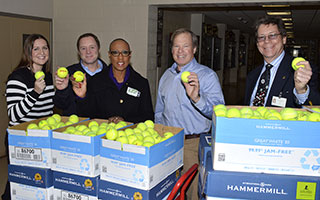 Today, the United States Tennis Association's Employee Green Committee, an internal, cross-functional team of 15 White Plains employees, delivered 3,000 used tennis balls to Irvington High School. Rather than disposing of them, the tennis balls were donated by USTA employees following tennis match play, clinics and tournaments, and were also provided from the USTA ball-testing offices.
At right, (L-R) Amanda Korba, USTA; Patrick Dennis, USTA; Denise Ciccio, Irvington Schools Parent Volunteer; Ed Brandt, USTA; Scott Palermo, Irvington Schools Director of Pupil Services
The Irvington School District will use the tennis balls for the bottom of chairs in their classrooms. This is the largest tennis ball request that the USTA Employee Green Committee has filled.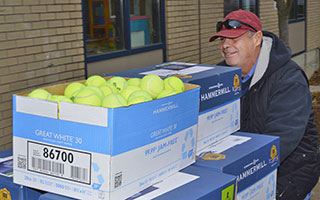 Since its inception in 2008, the USTA Employee Green Committee has collected and distributed more than 20,000 used tennis balls to hospitals, nursing homes, schools, physical therapy centers, recreation centers, and dog shelters nationwide.
The USTA Employee Green Committee is the longest-standing Employee Resource Groups at the USTA in White Plains. With 15 members who all work across different departments and offices at the USTA, the Employee Green Committee promotes and develops an environmentally-friendly workplace at the USTA National Offices. The Committee assists local organizations and farms to give back to the community, works to set and implement the USTA National Office's recycling and energy policies, plans "Green" events for employees, and runs an active tennis ball "recycling by reusing" program.
Photo 1: