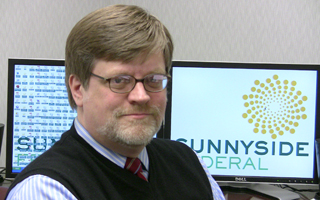 Sitting opposite Tim Sullivan, the CEO and President of Sunnyside Federal Savings and Loan in Irvington, it was apparent that under his leadership the eighty-year tradition of the Bank is very much intact. In addition, Sunnyside is in the midst of a very exciting time of positive change with new products and services for its customers.
When Mr. Sullivan was hired in January 2008 after an executive search, Jim Roy, the former President and CEO, was about to retire. "I realized that Jim Roy had done a fine job for many years and that Sunnyside Federal was very important to the residents of Irvington and neighboring river towns," Sullivan said. Tim Sullivan has built on the solid reputation of service that is Sunnyside, and has brought with him the conviction that if the Bank is to prosper, new products and services will be the key to its continued success.
In 2010 Sunnyside's website introduced Home Banking which has allowed customers to access their accounts online to pay bills or to transfer funds. "There is a trend to provide more online banking opportunities, but we also encourage our customers to visit us at 56 Main Street where there is ample parking behind the Bank. We want people to come in our door," Sullivan said. In addition Overdraft Protection on Checking Accounts and Debit Cards will be introduced shortly. The Bank has forged ahead by offering competitive loans not only for consumers but to small businesses as well. "We are local and very approachable. People can come in and talk to us and we can give them very quick decisions with regards to loans," Sullivan said. The loans Sunnyside has made have been safe and sound, and accounted for a profitable 2010. "We view our size as a competitive advantage. We may not have as many clients as big banks have but we hold our customers very dear and we make ourselves available to them," he added.
The Bank has kept the best from its past as well. "We still have the traditional holiday club and passbook savings which have always been a part of Sunnyside," he noted. He then added that Depositors with more than $250,000 no longer have to go to different banks to be covered by the Federal Deposit Insurance. With a new service in the form of CDARS (Certificate of Deposit Account Registry Service) Sunnyside Federal can provide a customer multi-million dollar FDIC on CD investments. "Bringing CDARS to Sunnyside has allowed us to satisfy customer demand for safety and convenience. In effect, a risk-free investment which is new and a smart option to help our customers manage their money," Sullivan said.
By retaining the successful elements of the past 80 years in the form of personal customer service and traditional banking services Sunnyside Federal has made a statement that it is the bank of the river towns. By adding new products and services online to include social networking on Facebook and Linkedin, the Bank is making a statement that it intends to enjoy another 80 years of service for its customers and the neighboring river town communities.
For further information about Sunnyside Federal call (914) 591-8000 or visit www.sunnysidefederal.com.