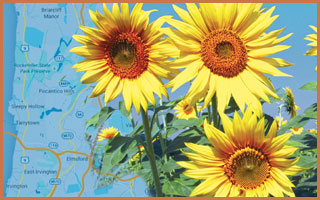 "Summertime is always the best of what might be," says it all. This quotation is from Charles Bowden, who was an American non-fiction author, journalist and essayist. While we make our vacations and summer plans, our village governments support local events, carry out ongoing projects and plan for new ones.
IRVINGTON
Irvington Village Administrator Larry Shopfer reports, "We're coming up on the end of the first year of the Drug Free Communities Grant. This was the $125,000 per year federal grant awarded to our Community Advisory Board to help combat substance abuse."
Irvington is also in the middle of the Town Hall Restoration project. This is the first comprehensive restoration of the exterior of this building in 110 years. It is a $1.7 million project.
The Village of Irvington submitted a grant application to NY State to help with the Aqueduct Crossing project. The project is designed to create a better connection for the Aqueduct Trail across Main Street.
Shopfer also noted that the Village just kicked off the LED Streetlight Replacement Project. Inventory work is currently underway and will be done by the end of the summer. The goal is to be done by Thanksgiving.
Windows in Irvington's Recreation Center are being replaced.  While not a huge project, the building is quite old and some of the windows are rather unique, making it an interesting undertaking.
TARRYTOWN
A summer series of Jazz concerts presented by Jazz Forum Arts, in association with the Village of Tarrytown Parks & Recreation Department, is underway at Pierson Park, in Tarrytown. Concerts are held on Thursdays from 7-9 pm and Fridays from 6:30-8:30 pm throughout the summer. Juke Joint was featured on Thursday, 7/23. On Friday 7/24, Mr. Gone featuring Neil Alexander (Music of Weather Report & The Headhunters) performed. The following Thursday on 7/30, Andrea and Armenian Rug Riders will be performing. On Friday, 7/31 Hiromi Kasuga Quartet will appear. In August, on Thursday, 8/6 the group Hard Ten will be playing. On Friday, 8/7 Marcus Goldhaber Quartet will be on stage. On Thursday, 8/13 Tangled Vine will appear.  On Friday, 8/14 HAM featuring Jesse Brotter is scheduled. On Thursday, 8/20 The Saints will perform. On Friday, 8/21 the Chris Rogers Quintet will play. On Friday, 8/28 Jazz Forum Arts returns to entertain residents for a final performance with the 4th Annual Jazz Forum Arts Vocal Jazz Competition Winners Concert.
Village Administrator, Mike Blau stated that, "The Village of Tarrytown is in the process of conducting two planning studies.  The first is a review of the Office Building and Mixed Use Zoning Districts to assess whether the uses in the district makes sense based upon today's real estate market. The second is a study of an area around the MNRR station and the waterfront to determine what uses the Village would like to see developed in these areas. It is a hard look at what is permitted now and what uses (may be many of the same uses) should continue or new uses be added to the area." He added, "The Village is also working on a revision of the Local Waterfront Revitalization Program document, which is a document with 44 policies relating to the waterfront. The LWRP document is on the website."
Road repaving in Tarrytown is planned with additional monies appropriated by the Board of Trustees to address the result of a very difficult winter.  However, the paving project will not begin until the fall. The Day Camp summer program is operating and will continue through the middle of August.
SLEEPY HOLLOW
From August 3-16, Sleepy Hollow is planning an event held at Edge-on-Hudson, near Sleepy Hollow Lighthouse, the former GM plant. Fly on the Trapeze provides 2-hour Westchester Circus Arts in Tarrytown, sister company to Amazing Grace CIRCUS! in Nyack, brings you the most unique community programs to amaze and delight you. Here, you can experience the greatest thrill imaginable: fly on a real flying trapeze rig…just like the big circuses use. When you sign up for a class you will be taught how to climb the ladder to the perch. Once harnessed in safely, the trainer will teach you how to grab the bar, when to pike, how to be "caught" and how to fall into the net. Bring a group of friends and have a blast in the air!
At Kingsland Point Park on August 7, the film "HOME" will be shown at 7:30 pm. Bring a lawn chair and blanket and enjoy the movie.
Also at Kingsland Point Park, on Sundays, August 2, 16 and 30, Lighthouse tours will be held from 1:00-3:00 pm. For more information, call the Sleepy Hollow Recreation Department at 914-366-5109 or rpell@sleepyhollowny.org.
On Saturday August 8, between 11:00 am and 5:00 pm, the Westchester Knicks, Funflatables, Gullotta House and the Village of Sleepy Hollow are hosting "Sleepy Hollow Family Fun Day" at Sykes Park. Come out for rides, food and drink, Westchester Knicks basketball games, face painting, raffles, DJ, fire trucks, Sleepy Hollow Police demo's, video gaming truck and pony rides – fun for, the whole family! Call (914) 366-5109 for further information.
BRIARCLIFF MANOR
Briarcliff Village Manager Phil Zegarelli noted in his Manager Report, "Con Ed Road Work Alert.  The initial phase of Con Ed gas main re-construction/replacement was scheduled to begin on Monday, July 20.  This phase is focused on Pleasantville, South State and School Roads.  Work Notices are to be distributed by Con Ed to affected customers.  The anticipated completion date is Friday, 21 August. While no time is a good time, the area is oriented to more discrete zones to minimize impact – that is to start, get in and finish in as timely a fashion possible. (I know, these are famous words on my part.) Understand that this is only one of several components in the area update and improvement program of local gas mains."
Briarcliff Summer Camp is off to a good start. While Summer Camp is in full swing, pool hours adjust to 12:45 – 7:30 pm on weekdays through August 9. Weekend hours remain 11:00 am to 7:30 pm  through August 9. The pool schedule has some adjustments for the swim/diving team home events:  on Thursday, July 23 the Pool closes at 4:30 pm instead of 7:30 pm for a home meet vs. Birchwood. On Sunday, August 2 the Pool will open at 12 noon and close at 4:30 pm for the NWSC All-Star meet & Swim Team Picnic.
Briarcliff Village Manager Phil Zegarelli also noted in his report, "The New Basketball Hoop at Law Park Tennis Court #4 has received a great response.  This addition is for pool patrons only and open on weekend afternoons. Access is from the newly installed gate at the poolside area. We welcome its use but ask that you respect permit-holding tennis players."
A book discussion under the stars will take place on Tuesday, August 4 at 7:30 pm.  Meet at the Law Park Pavilion and enjoy a warm summer night to discuss I Am Malala, a powerful memoir by the young Pakistani girl, Malala Yousafzai, who refused to be silenced, fought for her right to an education, and went on to win the 2014 Nobel Peace Prize.  If you are interested in attending, please contact Shelley Glick at sglick@wlsmail.org to obtain a copy of the book.
The Briarcliff Manor Pine Forest & Wetlands Reclamation Project work continues every Saturday at the Briarcliff Youth Center at 1:30 pm.  This is a grassroots community effort to "take back" the beautiful Pine Forest and wetland area from various invasive plant species located between the Youth Center and the Law Park Field. Volunteers are welcome, so bring gloves, loppers, hand pruners, pole saws/pole pruners, rakes, weed-whackers and protective glasses, and let's all work together to make a difference. This is a beneficial and rewarding community service.
Work continues at the Club Field at 25 Scarborough Road, with a weed/feed/seed program. Village Manager Phil Zegarelli elaborated, "The theme from VBM is 'keep to your footings.' On the construction project front, recently, we had the concrete footings for the Community Center, the Club Field Comfort Station and the new Hydro-Pneumatic Pump Station poured, and they are awaiting the next phase of construction. A push is on to accelerate the framing out and outer shell construction of each project.  The Hydro-Pneumatic Pump Station is a module being assembled offsite that is to be delivered to the site shortly after Labor Day.  This pump station will eventually deliver stronger water pressure to the higher elevations of the Village."
The Village of Briarcliff Manor is planning for their annual Community Day set for Saturday, September 12, in Law Park. Plan to join neighbors and friends in a day of family games, activities, food, refreshments and special attractions.
A new ambulance budgeted for by the Briarcliff Manor Village Board is expected to be delivered shortly after Labor Day.