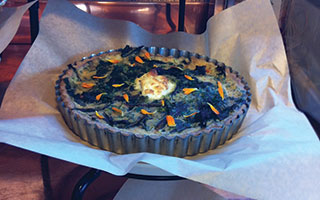 As autumn begins our third Thanksgiving we are offering salted caramel apple pies, as well as the new mini, salted apple caramel crumb pies, our famous pumpkin chiffon and apple pies. Chocolate  pecan and pumpkin cheese cake are all 100% organic.
We found that people were really loving our savory items so we created an organic flat bread breakfast pizza, with organic heritage farm eggs, kale and mushrooms. It has been a big hit and, a great grab-and-go item offered in both gluten free and wheat.
We have also sourced the most amazing organic maple syrup and clover honey from the Vermont/Canadian border which we are now using in our organic vegan quinoa muffins with hints of thyme and rosemary accenting plump seasonal figs.
Inside the bakery we have created  a more livable space using reclaimed wood, creating tables and coffee bars that make people more comfortable when using the red barn Wi-Fi.
As always we are grateful for all of the support that we have received from Irvington and the surrounding river towns.
Blessings, Randell Dodge
Red Barn Bakery is located at 4 S Astor St,  Irvington, NY and can be reached at (914) 231-7779
www.redbarn-bakery.com