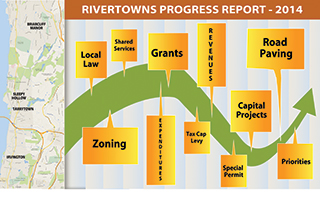 Our villages are managed by dedicated professionals who seek the best methods for carrying out daily operations, do more with less and coordinate special projects that enrich our lives as residents.
Irvington
The Town Hall Restoration project is ready to go out to bid, according to Irvington Administrator, Larry Shopfer,
who stated, "We should see significant progress in the upcoming year." He added, "The Riverview Road Water Storage Tank project is nearly complete."
Irvington's portion of Mountain Road, in a joint project with Greenburgh, was paved, and a new maintenance building was built at Scenic Hudson Park.
Qualified professionals are sought to do design work to create a more defined connection for the Aqueduct across Main Street.
A Greenway Communities grant for $2,500 will be matched with $2,500 to create the Tiffany Trail self-guided tour among the various Tiffany interiors/windows located throughout the Hudson Valley.
Irvington also received a significant grant in the amount of $125,000 per year for 5 years from the Drug Free Communities program. This federal grant is aimed at reducing drug use.
For the fiscal year beginning June 1, 2014 the Irvington Board has set priorities under six general headings: Comprehensive Planning, Continued Financial Soundness and Service Efficiency, Quality-of-Life Enhancement, Advancement of Affordable Housing, Improvement of the Downtown Economy and The Pursuit of Sustainability.
Wherever you live, it's great to know that the officials are passionate about your community and work hard to make things happen. Your participation is always welcome and encouraged. In 2015, consider attending a board meeting or becoming involved as a volunteer on one of your Village's various committees to share your expertise for the benefit of all.