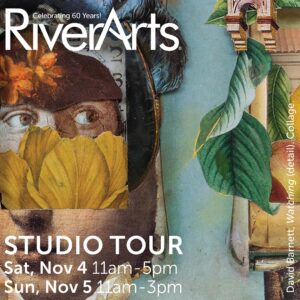 This fall, RiverArts will present their 2023 Studio Tour. This two-day tour will be held on Saturday, November 4th from 11am-5pm, and Sunday, November 5th from 11am-3pm. The Studio Tour features artists who live or work in the River Towns, working in the following media: ceramics, collage, drawing, fiber, installation, mixed media, mosaics, painting, performance, photography, printmaking, sculpture, and video. 
The tour will take place in studios throughout the River Towns. A tour map and information can be found at: www.RiverArtsStudioTour.com 
The RiverArts Studio Tour offers an opportunity for art lovers to engage with local artists in an intimate setting. Every year, participating artists open their studios to the public with a wide variety of works on display, as well as pieces available for purchase and studios with interactive kid-friendly activities. Studio Producer, Kit Demirdelen shared, "The Studio Tour is one of our most anticipated events in our programming calendar. We are excited to see new artists joining every year." 
RiverArts Executive Director, Josh Suniewick, added, "The Studio Tour is such a great opportunity for local art lovers to discover new artists in their midst and support the thriving visual arts community. I am always impressed by the number of talented artists living among us and this event really shines a light on this unique aspect of the Rivertowns."  
An interactive google map, a print map, and a downloadable map (for mobile viewing or to print at home), will be provided by RiverArts, so that attendees can plan their artist studio visits. Tour maps and more information can be found at www.RiverArtsStudioTour.com.
Attendees are encouraged to pre-register for the Tour on the Studio Tour website to breeze through the check-in line at each artists' studios. In addition to improving the attendee experience of the Tour, pre-registration aids RiverArts in recording accurate attendance numbers, which in turn helps the non-profit organization obtain grant funding.