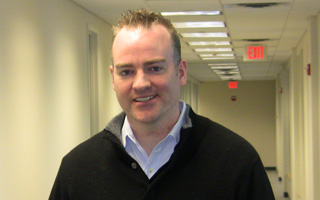 What if you ran for Trustee in your Village and won?  It happens. What if the incumbent Mayor decided to leave office? That happens too. What if you hadn't been in office for more than two years and you found yourself the next elected Mayor? That hardly ever happens. But never say never, for Irvington Trustee Brian Smith will be its next Mayor after the March 15 election. As a Republican he ran alone for the office of Trustee and won over other candidates. He will run alone again, but this time without opposition from a Democratic mayoral candidate, nor any other challenge from non-party individuals.
Brian Smith grew up on Embree Street in Tarrytown and as such attended Irvington schools. A six foot-one-inch starting goalkeeper, he helped the High School's soccer team win two league championships in 1989 and 1990 . His coach, John Khouri, instilled in him and his teammates that if they "cut corners" in training they were only cheating themselves. "His philosophy has stayed with me to this day," Smith said, during an interview at his asset management firm in Tarrytown. The firm occupies the entire fifth floor with splendid views of the Hudson River and the Tappan Zee Bridge.
When Brian Smith entered Boston University he majored in Business Administration  with a concentration in Accounting. "I had heard that accounting and eventually becoming a CPA was the fastest way to join the FBI," he said. He took a position after graduation with Price Waterhouse Coopers auditing offshore accounts, and in 1997 passed the exam to become a Certified Public Accountant. In 2000 he became a trader buying and selling stocks and with it the FBI faded as a realistic career.
He is married with two young children who attend the Dows Lane school. He is an active volunteer fireman and has a wide variety of friends in the Village of Irvington. He sees government in realistic terms. "There is a glacial speed to it," he said with a glint in his eyes. "Sometimes you have limited information for big decisions and you are never going to have a perfect answer for all issues," he added. Nevertheless he realizes that he is well-suited to be Mayor. "I know what's important in the Village and I can easily reach out to people. I consider myself strong and reasonable." Then he added, "Let's face it, being Mayor is not a job a lot of people want to do. It's not a lot of fun stuff." That type of directness coupled with confidence and affability will bode well for Smith over the next two years.
Turning his attention to the Village, he believes that the seven-year process to rezone the waterfront has been exceedingly long. He knows it's important to get the zoning right but once again, seven years has been long and taxing for all parties concerned. Being a CPA he is keenly aware of the financial difficulties Irvington and a host of other small villages face. Smith realizes that salaried Village personnel and their benefit packages are a large part of budget expenses and there has been a trend to not fill positions when workers retire. That, in his estimation, is a double-edged sword because the savings in compensation have to be weighed against the safety of residents. He also noted that there are certain areas where no compromises can be made. "We cannot allow our infrastructure to be poorly maintained. You have to provide maintenance throughout the Village," he said. So on certain things like water mains that no one sees, you still have to spend money on maintaining them or else major problems can occur that will be even more costly," he added.
Brian Smith already knows how much time his work, being a Trustee and volunteer takes away from his wife and young family. He is also realistic that being the Mayor of Irvington will not give him back any of that time. Still he says, "I am fortunate to work locally and can be in the Village on short notice. I love the Village of Irvington and want to be a welcoming Mayor who reaches out to residents and businesses alike."
He then added a little known fact. "Remember the fire truck fiasco a few years ago? Well we got back the $371,000 from the Hartford Insurance Company." Under his leadership Irvington can only hope for more and more good news in the years to come.