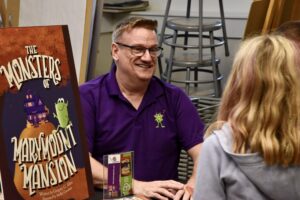 Irvington author Gregory G. Allen has followed up his picture book about the theater-loving squirrel with a children's chapter book about a young monster who must learn to accept and embrace his own differences, including his green skin and his very own unique selfhood. The Monsters of Marymount Mansion speaks to diversity, self-acceptance, and bullying as told through the eyes of a young green hero.
Westchester residents can pick up a copy, hear the author read an excerpt, and have a Q&A with the author on Sunday, November 12 from 4pm-5:30pm at the Hudson Valley Books for Humanity in Ossining NY.
"I love Amy Hall's philosophy and vision for her store in Ossining," Allen says. "My children's book is layered with metaphors about social justice, empathy, diversity, self-acceptance…her store is the perfect place to introduce my little monster to Westchester and I hope to see many of my local friends there."
Allen continued. "I am excited to bring this book to Ossining in November as I want people to know this story goes beyond October and Halloween. While one holiday may kick off the story, it's about young Toby exploring the outside world through multiple holidays and into the new year."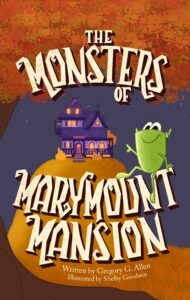 This easy reader chapter book introduces us to Toby: a young monster who has skin like a fish, fur like a dog, and smells like cotton candy when he gets excited. He lives with his family in the basement of Marymount Mansion and once a year ventures out into the real world when everyone is dressed for Halloween. Toby becomes frustrated with hiding below ground and sets off on an all-important quest.
Allen says that the book can speak to many children who feel alone or isolated in the world. He took inspiration from so many places in creating this environment…even the much beloved Diary of Anne Frank. He doesn't expect readers to know where his inspirations came from, but he takes pride in knowing the layers are there.
Allen has been in the entertainment industry for 35 years as a writer, actor, and filmmaker. He is the award-winning author of four children's books, four adult novels, one nonfiction memoir, and two short stories. As a filmmaker, two of his short films Hiding in Daylight (Writer/Producer) & Reparations (Writer/Director) were both chosen to screen at the American Pavilion at the Cannes Film Festival for 2019 & 2020. He has been the recipient of several awards and writing grants from BMI, ASCAP, and the Watershed Foundation. www.gregsimagination.com
Photo Credit: Tom Schopper