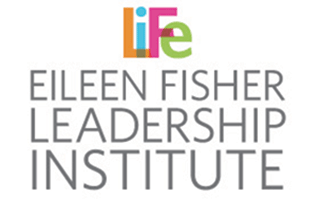 The Eileen Fisher Leadership Institute (EFLI) has announced the opening of the application process for the 2015 summer sessions. Now in its sixth year, EFLI promotes leadership in young women through self-empowerment, connection with others and activism in Westchester County, NY.  This year, in addition to a full calendar of summer programming for young women, EFLI introduces Leading from Within, a program for young men.
Now both female and male participants will explore EFLI's core practices of creativity, confidence, connection and community through engaging workshops, collaborative activities and exposure to local leaders.
EFLI will continue to offer two sessions of the twelve-day Activating Leadership program for high school-aged young women this summer. Beginning July 6 and August 3, between 18 and 22 participants will be accepted into each session of Activating Leadership. Thirty-seven talented and motivated young women completed Activating Leadership in 2014. This year, EFLI invites young women entering their freshman year of high school to apply for Intro to EFLI, offered from July 27 – 31.  Additionally, EFLI will continue the LIFE Fellowship, a full-summer internship program for a select group of recent high school graduates. EFLI will also continue to offer programs for returning participants to dive deeper into their personal growth journeys, and opportunities for the larger community to explore Eileen Fisher leadership practices through interactive, full-day workshop experiences.
EFLI is pleased to announce the launch of programming for young men. "From the beginning of EFLI's program, community members have ask us, 'What about boys?' We recognize that for EFLI's mission of promoting leadership in young women to be most effective, we need to engage people of all ages and genders," says Antoinette Klatzky, Program Director. "This pilot program will provide a chance for young men to engage in their own personal growth journeys and to explore the ways in which they approach the world."
Applications may be completed on a rolling basis by any of the three following deadlines: March 1st, April 5th or May 3rd. Applications may be submitted online at www.efli-life.org. For any questions, please contact Program Coordinator Aimee Aubin at 914-487-3354 or info@efli-life.org.