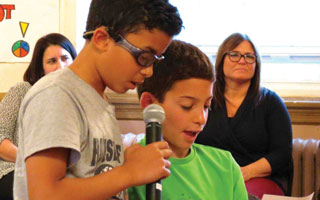 Main Street School students enthusiastically greeted three members of the United States Army during a special assembly earlier this month. Through Skype, the entire school was able to video chat with Cpt. Catherine Gibbs, 2nd Lt. Michael Buckley and 1st Lt. Drew Kohler, who are currently stationed in South Korea.
The special connection was part of a yearlong discussion regarding character building and global citizenship. Throughout the year, students have experienced read-alouds and participated in book clubs with characters and settings from places around the world. In addition, through Boodle Boxes, students wrote letters to U.S. soldiers stationed outside of the United States.  At the end of March, students gathered for the monthly character building assembly where they explored the meaning of being a global citizen. 
During the Skype call, students had the opportunity to ask the soldiers questions about their careers and lives, as well as share some of the ways they have been working to become global citizens in the school community.
After being asked what drove the officers to join the military, Lt. Buckley shared, "I felt like it was my duty," adding that he has family members who joined before him.
Cpt. Gibbs, on the other hand, was the first member of her family to enlist. "I have always been interested in the military," she said.
Students also learned that while there is no current conflict in South Korea, the soldiers have dedicated themselves to helping the citizens stay safe and even improve their quality of life. While members of the Army may be away from their families for up to three years, they enjoy their work and like to immerse themselves in the countries where they work.
"I feel welcome in the community," said Lt. Buckley. "I am trying to learn [to speak] Korean while I am here."
Students said the soldiers' answers provided new perspectives about what qualities like persistence and empathy mean, and many raised their hands and said they are interested in looking into military careers. While the soldiers' line of work has taken them to countries like Belgium, Iraq and China, they underscored the importance of global citizenship and peace.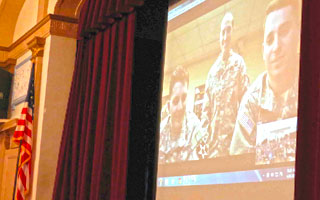 "I do think being in the military has made me a global citizen," said Lt. Buckley. "I think risking my life is worth it because freedom is very important to me."
Cpt. Gibbs said she feels compelled to protect those in the world who are unable to defend themselves – such as children and the elderly.
"We are all human," she said, "and that gives us more in common than you think it would."
Main Street School will continue its commitment to global citizenship through a Hike for Hunger on April 24. There are currently two donation jars in the school to collect money to be donated to local, national and global charities dedicated to fighting hunger.