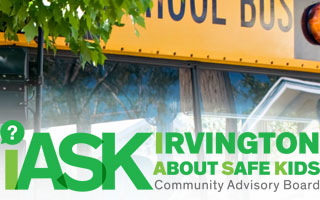 Young people today face many challenges and obstacles that are familiar to adults but now in a more complex and fast-moving world. With the constant immediacy of social media and the false perception that everyone else's life is more perfect (as portrayed on popular social media sites like Instagram, Snapchat and Facebook),
the pressure to be accepted and liked is tremendous. Failure can be perceived as catastrophic instead of just a learning experience. With the legalization of marijuana and the easy access to alcohol and other narcotic drugs, the choice to experiment and self-medicate can be tempting.
After continuous discussions with our village teens – who were themselves concerned about false perceptions and ease of access to alcohol/drugs – it was clear that they, along with adult community members, wanted to understand more and work together to communicate messages about prevention and education.  The result is Irvington About Safe Kids (iASK), a coalition borne from Irvington's long-standing Community Advisory Board (CAB). The CAB mission continues to be providing a safe and encouraging environment for teens in which they can have honest dialogue about subjects meaningful to them. Our goal is to provide them the tools and support to make good decisions and maximize life's opportunities.
Some of the topics covered in the past years include: freedom of speech in school, recycling, healthy nutrition, safe rides, and drug and alcohol use/perception.
The newly formed iASK-CAB works to coordinate various community resources and activities with an emphasis on helping youth grow up healthy, happy and responsible.  The coalition represents all sectors of our community – parents, teens, educators, law enforcement, government, medical professionals, businesses, faith leaders, civic groups – working together to provide youth and their families with the information and skills needed to make healthy decisions.
Led by Co-Chairs Allyson Felix and Tanya Hunt, iASK-CAB applied for and was awarded the Drug Free Communities grant through the Substance Abuse and Mental Health Services Administration (SAM HSA).  The grant provides funding of $125,000 per year for a period of 5 years. Funds are designated for communication and strategies aimed at alcohol/drug awareness, education and prevention messages to our village teens, their families and the community.
"I am proud to co-chair the iASK-CAB coalition with Tanya," says Co-Chair Allyson Felix.  "The formation of iASK further demonstrates the CAB's already existing commitment to working with teens, families and our community to strengthen our messages of prevention and education around issues with drugs and alcohol."
Co-Chair Tanya Hunt adds, "We are fortunate to have extremely supportive Village leadership like Mayor Smith, Larry Schopfer and Joe Archino, plus a tremendous reservoir of talent in our new coalition and interested students who continually demonstrate their commitment to working with peers to communicate our content and messages. We are look forward to rolling out our new campaign this school year and  anticipate positive feedback and results from our efforts."
The coalition will be working throughout the year to implement research-supported strategies that have proven effective in reducing youth substance use by:
Raising awareness
Providing skills and training
Changing social norms
Reducing access to alcohol and drugs
An integral component of the coalition's work has been to involve youth directly in the planning and implementation of programs and events.  This past summer, the coalition sponsored six Irvington High School students to attend the Youth to Youth Training Conference in Rhode Island.  This conference brings together high school leaders from throughout the country to serve as vital catalysts in youth prevention programming.  Students attended interactive workshops led by nationally known speakers as well as trained peers.  Their experience, combined with the information they gathered, will serve as the basis for creating change and positive decision making for their Irvington peers.
The coalition will sponsor youth-based training and activities throughout the year that range from health class instruction at the high school to a pre-Prom event and transportation to the event venue.  In addition, we are excited to launch our new website and social media platforms to provide information and resources for both parents and teens.
iASK-CAB relies on dedicated members that are interested in providing support to our youth. The success of iASK-CAB's efforts depends on the support and involvement of the entire community!  For more information or questions, contact info@iASK-CAB.org.