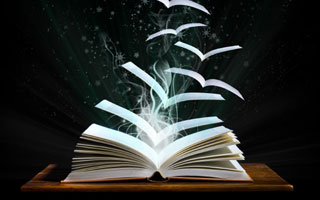 American composers inspired by American writers
Hudson Chorale, Westchester's largest chorus, will conclude its 5th season on Saturday, May 9, 2015 with the second of a three-part series – American Voices – a program of American composers who found their inspiration in American writers.  The concert will feature the 80-voice Hudson Chorale, a full orchestra, the premiere of a new work by the chorus' Conductor/Music Director, Michael Conley, and a pre-concert talk by Conley and Chorale member, actress and author, Barbara Dana.  The chorus has earned praise for its unique programming, and this concert is no exception. The composers range from the universally known Randall Thompson to contemporary American artists.  This concert is a perfect example of the kind of eclectic mix that makes Chorale concerts so extraordinary – a place where you can enjoy re-visiting the works of "old friends," while meeting musically interesting and entertaining "new friends" at the same time.
No concert with the theme of American choral composers and writers can exclude Randall Thompson [1899-1984] who is considered by many to be the best American composer of the 20th century, and who looked most often to poetry, scripture and historical documents to find his preferred lyrics.  The concert will feature Thompson's Americana, a delightfully entertaining work in which he set to music the simple writings of everyday Americans.  The title Americana comes from a section of a monthly magazine called American Mercury in which the editors included a variety of articles from periodicals published around the country, all serving to illustrate and, in some cases, poke fun at what was going on in the country at the time. 
You don't often find a lover of the great outdoors, an inventor and a choral composer in one person, but Cecil Effinger [1914-1990] is the exception.  Straying only briefly during his lifetime from his native Colorado, Effinger was a prolific composer in many music genres, from works for string ensembles to operas and symphonies. In between compositions he managed to invent the Musicwriter, the non-digital equivalent of today's MP3 recorder, and the still-in-use tempo watch which musicians use to record the exact tempo of a piece in performance.  His choral works are his most popular compositions, and the concert will feature Four Pastorales, based on the words of Colorado's 1979 poet laureate, Thomas Hornsby Ferril [1896-1988].  Ferril is so beloved in his native state that his words are engraved in the state Capitol: Here is a land where life is written in water…. Look to the green within the mountain cup.  While few knew of him outside of the Western states, Ferril was highly regarded and sought out by his peers, including the iconic American poet, Robert Frost.  Carl Sandburg called Ferrill "the Poet of the Rockies" and "one of the great poets of America." 
Michael Conley enjoys a multi-faceted career as a conductor, composer, pianist, organist and singer.  When Hudson Chorale was formed in 2010 by the merger of the Westchester-based Choral Arts Society (conducted by Conley) and the Westchester Concert Singers, Maestro Conley became its first Music Director.  The chorus is proud to present his own tribute to American writers with the performance of his musical anthology, This Bequest of Wings.  Based on the works of Massachusetts poet Emily Dickinson, the collection contains a portrayal of Dickinson's life as described in her own unique and, in her day, often controversial manner.
As a concert bonus, starting at 6:45 pm, audience members are invited to attend a pre-concert talk about the piece by the composer/conductor, Michael Conley, and Hudson Choral member/Emily Dickinson scholar and author, Barbara Dana, who has often portrayed Dickinson in the award-winning play, The Belle of Amherst.
A final addition to the concert – based neither on prose nor poetry – contains the single-word lyric, alleluia.  That universal expression of praise has inspired many generations of composers including Randall Thompson, whose Alleluia was included in Hudson Chorale's American Voices-Part I concert in 2014.  This year, audiences will hear a vibrant, soaring musical interpretation of this ubiquitous four-syllable hymn.  Paul Basler is today one of America's most popular and widely commissioned young composers of choral and instrumental music.  His resume of teaching positions, commissions and performances is a passport with stamps from all over the world, ranging from Kenya to Florida.
Don't miss this fabulous red-white-and-blue concert!  One performance only on Saturday, May 9, 2015 at the Irvington Middle/High School Auditorium, 40 North Broadway, Irvington, NY.  Pre-concert talk starts at 6:45 pm; concert begins at 7:30 pm.  Handicap parking is available.  Following the concert, the audience is invited to an informal reception to greet the conductor, the chorus, and members of the orchestra, a long-standing Hudson Chorale tradition.