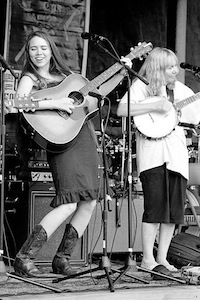 On Sunday evening, March 18 at 7:30 p.m., the Irvington Town Hall Theater will be filling with sounds from the Blue Ridge Mountains of Virginia as Irvington native Jon Lohman once again brings a stellar lineup of bluegrass and old time music to the stage.
Lohman, who works with traditional artists and musicians throughout Virginia in his role as director of Folklife programs at the Virginia Foundation for the Humanities and Virginia's State Folklorist, is eager to showcase the talents of men and women who exemplify Virginia's rich cultural heritage.
"It's a pleasure to bring some of these incredible bluegrass and old time musicians back to Irvington," says Lohman. "We're going to give the audience a sense for what it's like at a mountain jam, dance or festival."
Mandolin player Danny Knicely is among those appearing during Sunday's "The Hills of Home" concert. He grew up in the Shenandoah Valley part of a family steeped in generations of mountain music traditions. He will be joined by Nate Leath, a fiddling phenom who has won numerous fiddling championships throughout Virginia and has toured with the likes of Dave Grisman.  Martha Spencer, on fiddle and banjo, and Jackson Cunningham, on mandolin and guitar, will play duets as the Whitetop Mountaineers, demonstrating the artistry behind their CD "Go Away with Me: Music from Virginia's Hills and Hollers," released in 2010 from Heritage Records.  Expect some special guests as well.
Adult tickets for the evening concert are $25, with $20 for students and seniors.
Concert is reserved seating.  For more information and to order tickets, contact Irvington Town Hall Theater Box Office at (914) 591-6602, or purchase online at http://irvingtontheater.com.
For more information on the Virginia Folklife Program, see www.VirginiaFolklife.org.