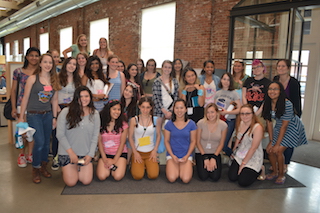 Local youth leadership program enters a year of growth.
The Eileen Fisher Leadership Institute (EFLI) is proud to announce the national expansion of its award-winning youth leadership development programs. Throughout the 2016 year, EFLI will run residential programs in DC, NY and Seattle, with offerings for both young women and young men. Additionally, EFLI will continue to run non-residential programming throughout the summer of 2016 at the EILEEN FISHER Learning Lab in Irvington, NY.
Since 2010, EFLI has run programs to promote leadership in young people through self-empowerment, connection with others and activism in their communities. Having supported over 3,000 participants in their own leadership development, through this expansion EFLI will be able to bring its powerful programs to young people beyond its Irvington home and across the country.
"In our hearts, we knew that there were extraordinary young people across the country searching for their authentic voice. This program creates a safe space for them to better understand themselves and step into their own confidence," says Program Director Antoinette Klatzky.
EFLI's programs are developed around the leadership practices of EILEEN FISHER Inc., an internationally successful fashion
company based in Irvington, NY. After completing EFLI programs, participants report a 73% increase in confidence level and a 133% increase in sense of community.  "EFLI is my home – a place where I can be 100% myself and feel empowered constantly," says Youth Ambassador Board member and Irvington resident, Ana Sandoval. "I can't imagine my summer, or my life, without it."
Summer program offerings at the EILEEN FISHER Learning Lab in Irvington, NY,  include two sessions of Activating Leadership for young women in high school (July 11-22 and August 1-12), a session of Leading From Within for young men in high school (August 1-12), as well as Intro to EFLI for young women entering ninth grade (July 25 – 29), Strengthening Leadership for participants who have completed AL or LFW (August 1-12), and Deep Dive Days –  full-day programs for the larger community to come experience a day at EFLI.
Applicants are asked to submit their completed applications by May 1. Applications may be submitted online at efli-life.org.
Aimee Aubin is the Program Coordinator. Call 914-487-3354 or info@efli-life.org.