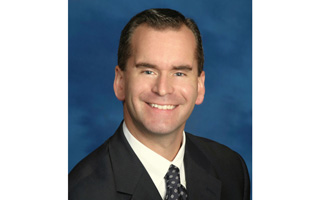 Eric T. Lebenson, an Associate Broker with William Raveis Legends Realty Group and Briarcliff Manor resident, has signed on to participate in another charity project, continuing his commitment to the community of Westchester County, where he has lived for the last 35 years.
Eric has been nominated as a Man of the Year candidate for the Westchester/Hudson Valley chapter of The Leukemia & Lymphoma Society (LLS).  Candidates for The Man & Woman of the Year campaign compete for the title, judged solely on a philanthropic basis – on their success to generate funds.  Each dollar raised counts as one vote during the 10-week campaign, which began March 8th and ends at the Grand Finale May 18th at Renaissance Westchester Hotel in West Harrison.  The male and female winners in each local chapter go on to compete for the national title.  In 2011 the Man & Woman of the Year campaign raised $14.5 million nationally.
Eric is truly honored to be a candidate for LLS 2012 Man of The Year.  He has been nominated by his friend, the 2011 LLS Man of the Year, Kevin Morgan.  As a former President and two-time Paul Harris Fellow of the Briarcliff Manor Rotary Club, a Pocantico Hills School Foundation Board member, and volunteer of numerous non-profit organizations, Eric's life has been dedicated to community service.  His grandfather retired from a successful business career, and followed it with an award-winning "second life" of charitable work.  Eric has always looked up to him in this way and now feels lucky to be able to undertake this important endeavor in his own "first life" as a real estate broker, a husband to Dawn, and father to Julia and Michael.
Eric knows first-hand the pain and hardship that families endure, having lost his mother from cancer when she was only 64 years of age.  But he has also have seen the benefits of the great work and research that organizations like The Leukemia & Lymphoma Society provide.  Eric says one of the most touching experiences of his life was when he attended one of his best childhood friend's wedding, and saw his best friend walk down the aisle with his new bride while battling Hodgkin's Lymphoma.  They have now been married for 12 years and have two beautiful children.
Marcene Hedayati, Broker/ Managing Partner of William Raveis Legends Realty Group has said, "I cannot think of another person who would be more dedicated to this cause than Eric.  All of us at Legends support him one hundred percent and wish him the very best."
Donations can be made to Eric's campaign at http://wch.mwoy.llsevent.org/ERICLEBENSON
LLS dedicates itself to being one of the top-rated voluntary health agencies, in terms of dollars, that directly fund the mission – to cure leukemia, lymphoma, Hodgkin's disease and myeloma and improve the quality of life of patients and their families. Over 78% of LLS funds are spent on research, patient and community services, advocacy and education. More information about LLS can be found at www.lls.org.