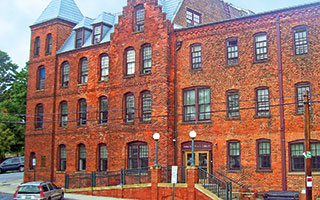 Consultants "Saratoga Associates" have been working with the steering committee to come up with a master plan to reinforce the character of the community and enhance Irvington's Main Street, designated as an historic area by New York State. On Monday, June 16th, a presentation was made to the Village Board of Trustees outlining recommendations made for new pavements, lighting and other components in the historic downtown area.
At right, "Lord and Burnham Building" Photo by Daniel Case.
The steering committee also met with Saratoga to review the presentation. The recommendation to bury overhead wires was strongly suggested before resurfacing the area with new design features.
Also recommended was determining the life expectancy and functionality of the existing underground infrastructure to make sure that there is enough capacity reaching the lower sections of Main Street. A records search and utility survey for existing in-ground utilities — water, sewer, storm water, gas and fiber optics — was recommended by the consultants before proceeding to avoid the necessity of redoing any implemented design improvements.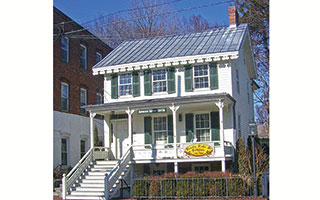 The six-month master-plan process included three meetings with the steering committee, which consisted of members from the Board of Trustees and community individuals. Public meetings were also held to capture residential input into the project.
Proposed recommendations for improvements being considered include:
Pedestrian safety to update crosswalk options included utilizing color markings, and incorporating sidewalks, curb cuts and ramps that are in compliance with the American Disabilities Act.
Supporting the health of existing trees and the creation of improved conditions including tree-planting pits.
Trees suitable for the Main Street area, selected for flowing characteristics and seasonal color.
Safety and traffic calming measures at strategic locations to slow down motorists. Loading zones, snow storage, and U-turns can be marked with highly visible textured paint for additional safety.
With 14 sidewalk extensions located in the proposed plan, parking is being redefined. There is a potential loss of 16 spaces, which is a concern. It was suggested that the formal survey and design process would seek ways to minimize loss of parking.
New lighting fixtures considered were well-received by the public and steering committee during the process.
Decorative patterns were illustrated showing how their implementation can indicate a sense of place.
Saratoga consultants discussed a draft estimate of nine million dollars or more to bury existing overhead wires, based on New York City DOT price guides. The consultants mentioned that utility companies Con Edison, Verizon and Cablevision provided rough costs with no specific breakdown of expenses.
Village Administrator Larry Shopfer is looking forward to receiving the final document from Saratoga Associates. Based on input and findings from residents and the steering committee over the past six months, the final Main Street Streetscape report is planned to be unveiled shortly. At that time, the Board of Trustees will plan a course of action to determine the next steps for this project, and turn what is now just a vision into a reality for preserving and revitalizing Irvington's Main Street.