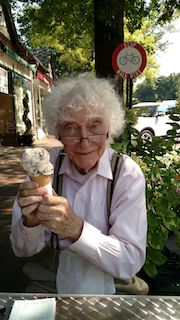 Edward J. Burggraf, a beloved teacher in the Irvington School District, passed away peacefully on December 24. He was almost 89. Ed, or "Mr. B" as he was affectionately known by his students, was a unique and unforgettable teacher at Dows Lane Elementary School from 1973-96. He taught by providing a playful, exploratory and relatively unstructured learning environment where students were encouraged to tell him what they were interested in so he could design a relevant and engaging experiment or investigation.
Students would then proceed with self-directed inquiry and write in their journal and share what they had learned.  He had a huge impact, not only on his students, but also on their parents.
Ed never had any kids and Julie, his wife, predeceased him by a few decades as she had early onset Alzheimer's.  Although battling ailments in his later years, Ed was happy and active until the end.  Claire Ballantyne, a neighbor and former student, was like a daughter to him, and she visited him daily with her kids, Aidan and Ava, and her dog Duke – all whom Ed loved greatly.   His health deteriorated quickly, brought on by a fall in November 2017, and his condition was not widely known by many, as he never drew attention to himself.  Ed would not have liked people to dote on him and he requested that he have no ceremony, memorial or funeral. However, he was loved by so many that we have planned a Celebration for April 28 – see information below.
As a testament to Ed, we will share some quotes that were posted about him online:
"I had him for both kindergarten and 3rd grade, and he was a family friend who taught all my siblings. He gave me learn-to-read books before I entered kindergarten and I have since used those to teach my 3 kids to read. With every story, I would think of him. It's a long way from here to Irvington, but if there's a way I can make it, I will. Otherwise, I'll be there in spirit." – Deborah Uman
"He'd say, 'Get it?' so you could say, 'Got it!' and then he'd say, 'Good!'  We had a lot of fun with that [while] learning times tables!" – Carl F. Chesna
"I still remember everything about his kindergarten classroom; I can picture it with the hollowed-out TV and other fun oddities and the Spaghetti Road. I also had him for 3rd grade math and had seen him at a few events over the past couple of years, and he always had a twinkle in his eye." – Jennifer Atlas Bruch
"He really gave us a lot of freedom to experiment and explore. I remember producing stop-action claymation videos, playing Beatles records, establishing the Elect Jimmy Carter Headquarters for Dows Lane, and always writing a one-page journal every day. Also remember going out on his boat on the Hudson, collecting water samples and then viewing them under a microscope in our makeshift lab in the closet." – Erik Oley
"Truly the REAL "Most Interesting Man in the World." Ruined me for every teacher since. So blessed to have had him as my kindergarten teacher." – Jon Lohman
"He was an amazing teacher. I have such great memories of kindergarten with him…the boat, the bunny and that great head of hair." – Michael Cox
"My mom likes to tell the story that he recognized that I needed more structure to the day and had me organize his desk, books, etc. I loved it. Win/win for everyone." – Jenny Atwater
"Great teacher! I remember how he always gave you a times table question before you left his classroom." – Sue Pesick-Pierro
"He touched not only the minds of many but their hearts as well. He was an amazing man and teacher." – Barbara Wilt Beckmann
Ed was an avid sailor, and ballroom dancer. He was in the USMC and served in the Korean War.  A fact unknown to many is that as a very young man in his early teens, Ed left an unhappy home in Indiana, rode the rails looking for work, and eventually settled in California.  If not for the kindness of strangers, churches and libraries where he took shelter, he said that he would have starved and frozen to death. As a result, Ed developed a kind heart for the rejected and downtrodden.  After a very stark beginning to life, Ed found a way to change the lives of many kids with profound acts of kindness and understanding.
A Celebration Memorial, open to all who loved Ed, is scheduled for Saturday April 28, from 1-4 pm at the Washington Irving Boat Club in Tarrytown. Please bring your mementos and stories to share and wear bright colors in honor of his colorful spirit.  We will have an open mic so that we can openly celebrate how Ed helped, molded and taught us. We need a head count for planning purposes; so please send a quick RSVP text or email to Jeff Broadhurst at 267-222-2612 or SOCBFA@gmail.com