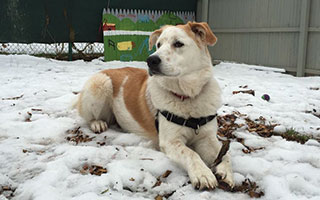 On December 7, the Westchester SPCA  (Society for the Prevention of Cruelty to Animals) in Briarcliff Manor celebrated its Holiday Open House.  Dogs and their owners were decked out in holiday finery. There were games, raffles, refreshments,  and music.  There were gift baskets for animals comprised of donations that people made throughout the past year, and handmade dog beds.
A queue formed of families and their pets waiting to have their pictures taken with Santa by the ever patient photographer, Liza Marguilies of Snootydog.com.
At right, Maddie
The open house kicked off a season of opportunities to buy gifts for your cat, dog, or for yourself, where the proceeds will go to support the SPCA , which operates entirely on donations. It is also an opportunity to adopt a kitten, puppy, cat or dog that has been spayed/ neutered, microchipped, vaccinated and checked for diseases.  There are over 120 animals that are looking for a loving home. Perhaps this is the Christmas or Hanukkah when your child's dream of owning a pet (or another) could come true.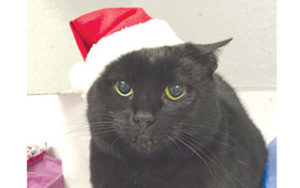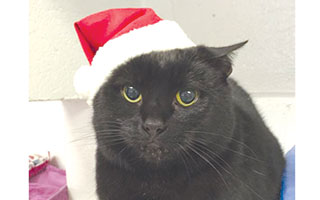 Great Gift Ideas also Include:
1)    2015 SPCA Shelter Dog and Cat calendars  $20.  Great for teachers, babysitters or even your favorite librarian. Available on-line at the SPCA website, www.spca914.org or at the shelter office.
2)    Holiday cards with photos of shelter animals.  For a donation of $25, they will send you a card to give as a gift with an honorary message celebrating the holiday season inside. Available on-line and at the shelter office.
3)    Gold and pearl charity bracelets from Desires by Mikolay, $50. Available on-line or in the Desires by Mikolay store, 55 King St., Chappaqua,  NY.
4)    Bobbie Sue's Nuts. Famous Briarcliff nuts! A portion of all sales goes to the SPCA. Available on-line at the SPCA website and all over Westchester in stores. Great stocking and gift basket stuffers.
5)    LAB soaps. Two 14-year old girls from Chappaqua hand-make a variety of luscious soaps and sell them for $8.50 each. All the proceeds go to the SPCA. You can buy them by going on-line to their website at LABsoaps.tictail.com.
6)    The Battle of the Paper Bag is book one in a planned series of books called The Crumbles Chronicles: Tales of a Nervous Dog by Briarcliff Manor author, Laura Scott Schaefer.  It is a beginning chapter book for children ages 7-9.  Schaefer has two rescue dogs, but Crumbles is "such a bizarre lovable creature that I had to write about him."  She is dedicated to using the book to help raise awareness about animal shelters and rescue pets. For every twelve books she sells, she donates a bag of dog food to an animal shelter.   Her books are also available for fund raising events.  For more information go to http://www.crumblesthedog.com You can purchase the book from Amazon.com  for $7.99.
7)    Make a big fat donation to the SPCA and give your kids the gift of the experience of  giving to others during the holidays. Piggy banks  are welcome!
The Westchester SPCA  (not affiliated with the ASPCA) operates entirely from donations.   It is one of the oldest horse shelters in the United States.  It has been in operation since 1883. According to Shannon Laukhuf, executive director of the SPCA, they were one of the very first landowners in Briarcliff Manor.  It was originally created to address cruelty to working horses and it has the authority, even today, to remove horses from unsatisfactory conditions and deliver them to a safe and nurturing environment. It was
It is a no-kill, not-for-profit shelter that offers a safe haven to thousands of animals every year.   They provide a comfortable habitat, nutritious food and regular check ups at the veterinary clinic until they are able to place the animals in a good home.   In 2013 the shelter placed 1,408 animals in new, permanent homes and returned 119 lost animals to their grateful families. The SPCA has a full-time Behavior enrichment coordinator for the purpose of promoting activities and training that help animals thrive in a shelter environment.
In addition they have a Humane Education staff that visits hundreds of school children each year and conducts tours of the shelter.  There is a Golden Outreach Pet Therapy program where trained volunteers take animals to healthcare facilities.  They also have the Simpson spay/neuter clinic for the public which also provides basic veterinary services, wellness programs and microchip implantation.
The SPCA of Westchester is the only humane society in the County empowered to enforce the laws of New York State that relate to animal cruelty.  They have their own Humane Law Enforcement officers who investigate cruelty complaints involving dogs, cats, horses, exotics and farm animals. They have a hotline, which you can call to report abuse.  That number is 914-941-7797.
The SPCA is a beloved institution in Briarcliff Manor and they have been blessed with a large number of volunteers. More are always welcome.  They currently have around 400 volunteers, many of them coming from Briarcliff.
In addition the high school's community service requirement has provided an influx of student volunteers.
The volunteers go through a rigorous training program.  When it is completed, they then are required to work with a mentor until they are ready to handle the animals on their own. On any given day, says Laukhauf, the cages are open and volunteers are petting and combing the cats and playing with the dogs.
It was through generous community donations that the SPCA was able to purchase a rescue vehicle this year.  It will allow them to pick up dogs from shelters where they have a high kill rate and it can be used for mobile adoptions as well.
Even if your holiday shopping is done or almost done why not go on-line to the Westchester SPCA website and pick up some last minute gifts.  Better yet, stop by the office at 590 North State Road (right near Club Fit) and get them there.  It will really put you in the holiday spirit to see all the love and goodwill you'll find there.