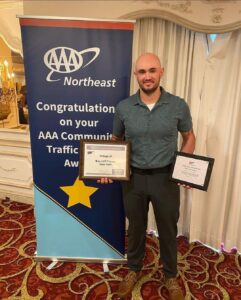 The Village of Briarcliff Manor Police Department has received the Silver Award at the 2023 AAA Community Traffic Safety Awards Program. This recognition underscores the department's commitment to proactive traffic enforcement and road safety initiatives.
With the introduction of new speed radar signs, the Police Department effectively pinpointed and addressed problem areas within Village roads. The department, through increased enforcement of speed, helped to reduce vehicle accidents on Route 9A, which was previously brought to the attention of residents.
Notably, Police Officer Ronald Yeager was acknowledged for his exceptional efforts in traffic safety enforcement. PO Yeager successfully completed a two-week commercial vehicle enforcement training and collaborated closely with NYSDOT to ensure the safety of our roads. Over the past year, PO Yeager conducted monthly safety inspections of commercial vehicles on Routes 9, 9A, and 100. Due to his diligence, several unsafe commercial vehicles with issues such as inadequate brakes and improper loads were identified and removed from the roads. Furthermore, PO Yeager is set to attend an additional training to further enhance the department's capabilities in addressing commercial vehicles.
The AAA Community Traffic Safety Awards Program (CTSAP) is a club-based initiative recognizing communities for their endeavors to enhance local traffic safety across various modes of travel. Communities earn awards not through competition but based on merit, emphasizing efforts in education, engineering, and enforcement (the 3 E's) alongside other safety measures.
Briarcliff Manor's acquisition of the Silver Award validates the community's extensive work in improving traffic safety, ensuring the well-being of both residents and visitors. The award ceremony was held on October 17 at The Garden City Hotel, Garden City, NY, with Village representatives in attendance to receive this honor.
In the spirit of community, Briarcliff Manor extends gratitude to every resident, official, and member of the Police Department for their continuous support and dedication to creating a safer environment for all.