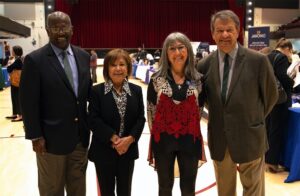 In today's interconnected world, the ability to communicate effectively is of utmost importance. Employers throughout Westchester are looking for ways to interact with and expand their reach in an ever changing and diverse County. In an effort to connect local businesses with job seekers who have the ability to communicate effectively with multiple communities, Westchester County Executive George Latimer and the Westchester County Office of Economic Development welcomed residents to its first Multilingual Job Fair on Thursday, September 28. The hiring event took place at the Westchester County Center in White Plains.
The event's goal was to connect businesses, municipalities, colleges, hospitals, schools and other institutions with skilled individuals who possess the valuable ability to speak multiple languages. Nearly 125 people attended and 50 employers and resource providers exhibited at the event.
Westchester County Executive George Latimer said: "As our County continues to grow and diversify, so do the needs of our employers and what they are looking for in order to strengthen their workforce.  At the same time, we are dedicated to not only helping our residents find jobs, but helping them find the right jobs that utilize their special skills, such as speaking more than one language."
Westchester County Office of Economic Development Director Bridget Gibbons said: "We are always looking for innovative ways to help local businesses find quality employees as well as to help job seekers on the margins who might not always recognize how valuable their skills are. A diverse and inclusive workforce makes for a stronger Westchester County, and we look forward to offering more hiring events in the future that help facilitate these connections."
Westchester County Director of Policy and Programs, Small Business and Chambers of Commerce Shari Rosen Ascher said: "The interest we received from local businesses wanting to exhibit at our first Multilingual Job Fair was tremendous, which underscores how valuable speaking multiple languages is to employers. We are thrilled with the success of this hiring event and look forward to hosting more in the future."
Martha Lopez-Hanratty, Director of Minority and Women-Owned Business Development and Immigrant Affairs, said: "The Office of Economic Development is consistently working to help individuals of all backgrounds and ethnicities start and grow their businesses. The Multilingual Job Fair has been a natural extension of that work, and we are pleased with the feedback we have received from employers and job seekers alike."
Participating employers included: Greenburgh Library, Legal Services of the Hudson Valley, NewYork-Presbyterian, New York State Police, Make-A-Wish, Sonesta Hotels, Westchester County Airport, Westchester Department of Social Services, White Plains Hospital and United Way.